2019: How Buhari will battle Atiku: APC governors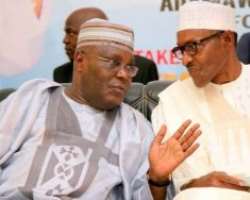 All Progressives Congress (APC) governors are taking the 2019 battle to Peoples Democratic Party (PDP) candidate Atiku Abubakar.
They are confident that President Muhammadu Buhari will defeat the former vice president in next year's election.
The governors, after a meeting yesterday at the Presidential Villa in Abuja, said they would engage in issue-based campaigns to convince Nigerians to vote Buhari.
The Atiku camp, also yesterday, said it was ready for an issue-based campaign and went ahead to raise some questions which it said would dominate the campaign and for which they are demanding answers from the government.
To demonstrate that Buhari also wants to campaign based on his performance, the President received a 1042-page achievement compendium from Secretary to the Government of the Federation (SGF) Boss Mustapha, shortly before yesterday's Federal Executive Council (FEC) meeting.
Mustapha said the compendium was a summary of policies and programmes implemented between 2015 and 2017 as approved by FEC, adding: "It is a valid and vivid proof of the giant strides by this administration."
According to him, the document will serve as first-hand information for the President on projects and programmes implemented.
The document, he said, will also serve as a reference point, lending credence to the fact that the administration has fulfilled its campaign promises.
Governors at the meeting with the President, which was also attended by Vice President Yemi Osinbajo and SGF Mustapha, are: Rochas Okorocha (Imo), Mohammed Abubakar (Bauchi), Abdullahi Ganduje (Kano), Kashim Shettima (Borno) and Akinwunmi Ambode (Lagos).
Okorcha told reporters that the APC was not jittery because of Atiku's emergence as PDP's candidate.
He said the governors came together "with our followers and supporters to further inform the world of our readiness to deliver Buhari in the 2019 election.
"This is just basically the message we have come and to say that Mr. President is more than ever ready for the entire exercise.
"Our election this time will not engage on castigations or talking. We will be taking on issues, Nigerians are tired of political abuses; what we want to be talking about is issues, the track records of people involved in our elections.
"Nigerians are very wise now, before they elect anybody they will ask questions, what has been your track records, who were you before, who are you now and everything about you. And for that reason, we are confident that in 2019, APC will go through.
"We have also looked at the issues concerning our primaries. In every democracy, you should expect a kind of disagreement and we have kindly requested that something be done to bring warring factions together so that we can have a united party to face the challenges ahead and we are happy that will soon take place.
"Most of the problems have been resolved, except for one or two states where we have issues and where it becomes more difficult, we ask for Mr. President's intervention in the matter.
"We are talking about reconciliation, what is important to us is that we must never go into this battle, a divided family and we want to make sure that all governors are intact, all National Assembly members are intact while going into this battle. We will never speak differently, we will speak as members of the party," he said.
The Atiku Abubakar Campaign Organisation also picked up the gauntlet by raising issues yesterday.
In the posers, the Atiku camp challenged the administration to name one project it initiated, started and completed in the last three years.
Besides, it also challenged the Buhari group to name one youth in President Buhari's cabinet.
The Atiku camp also challenged the Buhari campaign and the APC to name one promise that President Buhari has kept or one Southerner heading any of the security agencies.
It added: "Name one terrorist arrested, tried, convicted and imprisoned by the Buhari administration. Name one Buhari government official arrested, tried, convicted and imprisoned over their many budget padding scandals.
"Name one member of the Buhari administration fingered in corruption that was fired, arrested and currently facing trial. Name one former President or Head of State that has not been blamed by President Buhari for the precarious state of the economy he led us into.
The group said the Atiku Presidential Campaign Organisation runs an issue based campaign where refined language and cerebral arguments founded on facts are used to disseminate the vision of its candidate.
"Which is why we call on the Buhari Campaign Organisation to waste no time in taking the #BuhariChallenge in clearing the air on these knotty issues bothering the minds of Nigerians."