Today, Tuesday, October 09, 2018 final day to Register to Vote: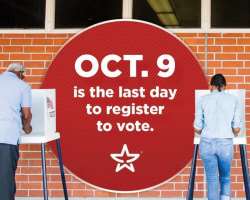 The American Human Rights Council (AHRC-USA) reminds fellow American citizens who are eligible to register to vote, to register no later than today Tuesday, October 09, 2018. Today is the final day to register.
Citizens who are not registered yet, are urged to do so and not miss voting on the general elections on Tuesday, November 6, 2018. The upcoming general election is very important for each voter to practice this precious basic civic duty helping shaping our common and shared future at all levels locally and nationally. Voting is the time where people render their say in electing the right candidates who reflect people's interests and address people's concerns. Voting is the practical answer to help set the record straight with all candidates.
The primary elections earlier this past August was full of energy, and excitement. The primary elections exceptional turnout is a reminder to all of us that, energizing voters is possible. The challenge before us now lies in translating the primary election momentum into a high turnout on November 6. This is the ultimate challenge.