2019: Delta APC House Of Assembly Candidate Promises To Deliver Warri North To Buhari, Ogboru, Uduaghan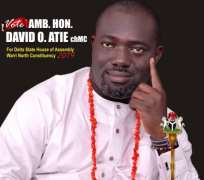 The candidate for Warri north constituency in the Delta State House of Assembly come 2019, under the platform of the All Progressives Congress (APC), Ambassador David Atie, has promised to deliver his constituency to the party.
Ambassador Atie, who emerged candidate for the All Progressive Congress at the just concluded primary election for his constituency where he pulled 169 votes out of the accredited 174 delegates, at Iwere College, Koko, reiterated that his landslide victory at the primary election would be replicated in the 2019 general election.
While fielding questions from Journalists in Koko, the capital of Warri North council area, he noted that a huge deficit had been created due to long years of poor representation, promising that the quality representation, which was hitherto lacking in the constituency, would be restored.
He however alleged that though some disgruntled elements attempted to cause confusion and rancor to disrupt the electoral process of the primary election that was free, fair and transparent.
He warned an impostor claiming to be the candidate of the party and his accomplices to desist from parading himself as candidate of the party, saying by their unlawful actions, they are walking the road to jail.
He narrated that the returning officer, Alexander Onyekeni duly conducted the election with the official delegates list, ballot papers, and result sheets all obtained from the party headquarters and announced a result where he defeated Eyeoyibo Bemigho, who had stepped down his ambition for him few minutes to the commencement of the exercise.
"The All Progressive Congress has an established procedure for electing candidates and has followed it religiously and methodically to a conclusive end, which led to my emergence as the flag-bearer of the party for Warri North State Constituency
"Do our laws, party constitution and guidelines for primary elections permit aspirants to just assemble a handful of rented passers-by to assume both the roles of delegates, election organizers, returning officers, INEC and declare themselves winners? He questioned
While dismissing the act of such detractors as the height of illegality and irresponsibility, he queried who certified and accredited the delegates in the purported primary election before the arrival of the election organizers
He called on party faithful and members of the public to discountenance and treat as fallacious any information or posturing to the contrary.
Atie, also described the presence of former Governor of Delta State, Dr Emmanuel Uduaghan in the APC, as a big boost to the party, adding that with him in the party, the APC is prepared to take over governorship of Delta State in 2019.