Biafra : BNYL Rejects VP slot For South East, Warns Atiku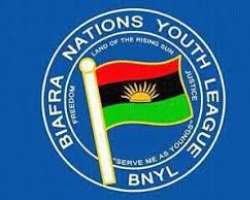 Biafra Nations Youth League, BNYL has faulted those yarning for Vice President slot from the South East, BNYL said that the challenges facing the region is beyond the position of Vice Presidency,
The group was reacting to the emergence of former Vice President Atiku Abubakar as flag bearer of the Peoples Democratic Party, PDP.
In statement made available to the press on Monday, BNYL Leader, Princewill Chimezie Richard insisted that even if Atiku considers VP slot for the Igbo, it will not solve the problem of the region. "I don't see why South East and South South especially the Igbo should be jubilating over Atiku's victory and expecting a VP slot from him, to us, Atiku and Buhari are still protecting the interest of the north, although Atiku is more educated than Buhari and may understand that referendum is the solution to various separatist agitations across the Nation but it baffles me that our people do not know that they are on the loosing end, if you defeat Buhari who is a Fulani, you install Atiku who is also a Fulani, and someone will tell me it is about PDP and APC, it is not.
Those expecting power to return to the East in 2023 are dreaming and should continue to dream".
The group also called on the PDP leadership to get Atiku "sign a bond that he will restructure Nigeria and organize referendum before he comes to campaign in the South East and South South" .
Richard a two time detainee in Calabar, recalled how northern leaders abandoned Jonathan to support Buhari in APC, "Because the PDP policy now favours them, they have returned to secure their interest, we are not fools" he said.