Kashim Imam To Donate N1 Billion for Borno Reconstruction... As He Condemns Borno Govship APC Primary Election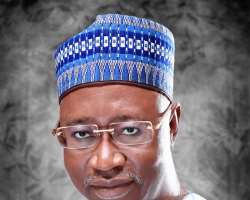 Matawalle Kashim Ibrahim Imam
Former Presidential Liaison Officer to National Assembly, Matawalle Kashim Ibrahim Imam has promised to fulfil all the pledges he made including assistance for the reconstruction of Borno state with a contribution of N1 billion for the reconstruction and rehabilitation efforts of Borno state.
He also pledged to design and construct Central Mosques in Bama and Gwoza towns.
Kashim however condemned the just concluded Borno APC Gubernatorial primary election which 12 other APC governorship aspirants have protested against and called for it's cancellation.
He said the condemnation came on the heels of irregularities that were alleged to have characterized the said party primary and alleged to have been hijacked by the State Governor by endorsing and anointing his candidate ahead of the election.
Addressing journalists today Monday at a press conference in Maiduguri, the 2007 PDP Gubernatorial Candidate, Kashim Imam added that already a protest letter has been communicated to the NWC demanding for the postponement of the said primary election.
He said the 12 aspirants in protest have already appealed to the APC National Chairman, Comrade Adams Oshiomole and NWC despite the fact that he said they were aware that an appeal panel has been constitutes to look into all petitions and appeals arising from the gubernatorial primaries across the country.
"We are aware that an appeal panel has been constituted to look into all petitions and appeals arising from the gubernatorial primaries across the country. We await the decision of the NWC and the appeal panel to take the appropriate steps to salvage this aberration so that it does not lead to break down of the fragile law and order we are currently enjoy in the state.
Imam also reaffirmed his commitment towards the economic development of the state with a view to creating sustainable employment for all our citizens while stressing that, he was also commuted to ensuring education for all our children through free and compulsory education programmes for primary and secondary schools across the state as a life long commitment.
" I would like to restate my commitment to the people of Borno state in the course of the campaign. I am committed to their welfare, progress and the development of the state which is what in the first instance necessitated my quest for the office of Governor of Borno state", Kashim said.
He said he came back home to thank his supporters and good people of Borno state for their support and solidarity to him while appreciating the words of wisdom, prayers and encouragement of the royal fathers and Borno state elders as well as the party stakeholders.
Matawalle added that in order to maintain peace in the state, he appealed to all his supporters and well wishers to remain law abiding, peaceful and orderly as they seek redress through the party mechanism and continue to pursue justice for all the people.