Donors Are Beating Besigye With Sticks Not Carrots!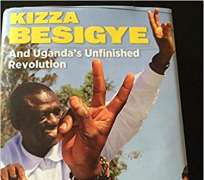 Friends, I like the clean politicians, feels clean. That is the feeling i'm increasingly getting as I start reading Daniel Kalinaki's book, ''Kiiza Besigye And Uganda's Unfinished Revolution''. Besigye critics have long argued vehemently that if a politician has been around the bloke for a long time, he must give a chance to someone else to take over. But truth be told, we are a little bipolar on that subject. Though they criticize Besigye for having contested against the incumbent since 2001, the same critics rarely make the same argument against Mr.Museveni. Our attitude towards people that have been fighting for freedom in Uganda is so sickening. We want to replace them as fast as they come, with an avalanche of abuses, yet freedom itself is still a long journey away.
Let's smile and appreciate an intelligent politician in Besigye. His last press conference on current security in Uganda was awesome. I've not seen anybody explain things from the head systematically as this guy did.He's really a gifted person. As Kalinaki puts it mildly,Besigye has paid a big price to try to remove Museveni from power,'he has been assaulted, teargassed, pepper-sprayed, and forced into exile', yet you still find voices that say that he's working for Museveni. What a bunch of nonsense!
I'm not in any way discouraging the youths, or more people, from raising up to take the mantle from Besigye. Hell no, but I want people to show this man respect. Some people were slating him after both the Bugiri and Arua eelctions won by candidates supported by Bobi Wine.These young politicians, with due respect, may hold the key to Uganda's future, and the future they create might not be what you expect, and need more exposure. Increasingly they have come to consider the machinations of the current politics in the country, as Besigye also came to learn in 2011. One of the things Besigye learned was that Museveni is still a darling of the donors, and no election will ever take him out of power. That's why, after the 2011 elections, he walked into the Irish Ambassador's residence in Kololo, demanding for an explanation as to why donors were folding hands yet things were bad in the country. According to Kalinaki, 'they saw a sore loser, a could-have-been who had fired his last bullet'. It hurts, doesn't it? Failing to become president because USA or UK haven't endorsed you? Or someone, somewhere is busy making up elections results? On top of that, you've got the Andrew Mwenda's jumping on you quoting %s of Museveni's wins since 1996.
The truth is that this world is centered in Washingtom, though it has counterparts elsewhere.The day USA will say Museveni must go, he will go. Which begs the question as of why they temporarily gave all that limelight to Bobi Wine after the Arua debacle. What exactly were they trying to do? Besigye had been charged with rape, treason and illegal possession of firearms, and held under house arrest, but we never saw the international community give him that audience they gave Bobi. Up to now, i don't understand what that was all about.
Just as crucial, emerging politicians have built an enthusiastic, growing audience that, while mostly young, is expanding across age and demographic lines. If they mix that up with the network already supporting Besigye and other old guards, there is a lot the opposition could achieve in the long term. Having poured his stylistically wide-ranging thoughts into his music, Bobi is an asset to the opposition and he should be protected, regardless of our differences. There is no reason the two worlds(Besigye and Bobi) could remain porous to their enemies.
Stalk my blog at: http://semuwemba.wordpress.com
"Men in authority will always think that criticism of their policies is dangerous. They will always equate their policies with patriotism, and find criticism subversive." - Henry Steele Commager 1902-98