Bankole Unperturbed By Impeachment Threats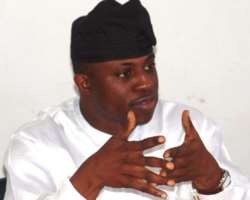 PHOTO: SPEAKER OF THE HOUSE OF REPRESENTATIVES, MR. DIMEJI BANKOLE.
ABUJA, June 14, (THEWILL) - Speaker of the House of Representatives, Mr. Dimeji Bankole, said the impeachment threats being sponsored by the Progressives in the House was a child's play and would not be shaken even as the ultimatum expires on Tuesday.
Addressing National Assembly Correspondents today before his trip to Russia to attend the Inter-parliamentary Union Conference, Bankole said, "I am not rattled by threats of release of any document. The documents being referred to are already in the custody of the EFCC, ICPC, SSS and even the Presidency.
"What most of my colleagues do not know is that I had been personally invited the EFCC to investigate some of the documents they now want to use in blackmailing me long before now. Some of you may recall that The EFCC chairman, Mrs. Farida Waziri once visited my office on account of that based on my invitation," the Speaker said.
Bankole who stressed his respect for the rule of law said, "The day Mrs. Waziri came to my office on my invitation to investigate some of the documents, you will recall that the story was twisted when a newspaper wrote a headline the following day with a caption; 'EFCC Quizzes Bankole. The EFCC was alarmed and had to do a retraction immediately.
"It has been established that the documents they are parading are fake, because they were forged in their desperation to implicate me. What they are doing to me are parts of occupational hazards and challenges, which any leader must be prepared to face.
"Once I became Speaker, I have been conscious enough to avoid soiling my hands in financial matters. Despite the denting of my image by their allegation, I would not begrudge any members of the Progressives who are my personal friends, and we shares close affinity," Bankole further explained.
Bankole added that 'few Nigerians' know that by law, there is a limit on the amount of money he could approve saying that it was the Management of the National Assembly who approved the sum N2.3 billion through a House resolution for the purchase of the vehicles.
The Speaker is expected back next week Tuesday when the House resumes plenary.