Nigerian Mission In South Africa Lauds Arrest Of South African Policemen That Killed A Nigerian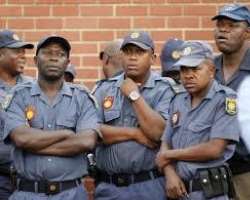 The Nigeria Consul General in South Africa, Godwin Adama, has welcomed the arrest of eight police officers accused of torturing and killing a Nigerian in Vanderbijlpark in 2017.
Adama told the News Agency of Nigeria in a telephone conversation from Johannesburg that the arrest was a welcomed development.
The CG said that the officers were arrested by the Independent Police Investigative Directorate (IPID)
He commended the IPID, who he said assured the mission of a thorough investigation and they had kept to their word.
"They had constantly briefed us on the case and we commend their seriousness in the approach in bringing justice to Nigerians in this case.
"It will set a new standard in the prosecution of cases involving Nigerians in South Africa. It will also send a strong message out.
The envoy also expressed appreciation to the government of South Africa for creating the enabling environment for justice to prevail.
He also expressed hope that the accused would be convicted to serve as a deterrence to others.
Adama also commended Nigerians, who stood firmly with the missions, to exert pressure on its intervention on the issue of hostilities against Nigerians in the area.
(NAN)