Chris Isiguzo now New NUJ President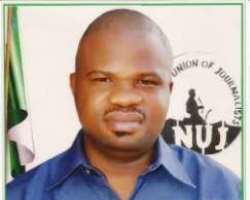 Mr. Chris Isiguzo from South east has been elected as the new President of Nigeria Union of Journalists.
Mr. Chris scored 346 votes while the out going AbdulWaheed Odusile scored 329 votes while Dele Atunbi came third with 101 votes, Abiodun Olalere with 56 votes, Usaka polled 30, Jocob Edi 16 votes and Otunba Mike Aladenika with 8 votes.
Meanwhile the out going President Abdulwaheed Odusile has Congratulated the newly elected Mr. Chris Isiguzo.
Announcing the result, the returning officer for the election Mr. Benson Upah said the election was free and fair.