Please Disregard Gov. Okorocha's Purported Re-scheduled Governorship Primary Election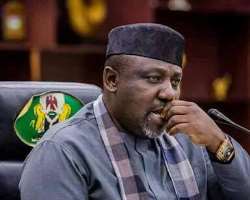 The attention of the All Progressives Congress Stakeholders have been drawn to the purported appointment of a new committee for the purposes of re-conducting already held primary elections in the State, including governorship election where Distinguished Senator Hope Uzodinma came first followed by the Deputy Governor of Imo State, Prince Eze Madumere with the Governor's son in-law Uche Nwosu at the rear.
To our consternation, Gen. Abdulrahman Dambazau (rtd), Minister of Interior, who is alleged to be heading the purported re-scheduled Imo Governorship Primary Election Committee, which according to them is to hold on Friday, October 5, 2018, is in far-away United States of America. This is not only suspicious but smack of irregularity.
In view of the foregoing, the news making the rounds that some group of unknown persons have arrived the State to re-conduct already held primary elections, especially the governorship primary election, to Imo APC Stakeholders is not only surprising but ridiculous. It is even more worrisome to note that the unknown persons in the guise of committee came into the State with Governor Okorocha.
We hereby state categorically that we are never part of this fraud as the Aspirants, Stakeholders and the entire APC members were never notified of any re-scheduling, which ought to have been the first step should such ever be considered as option.
We therefore, view such move from Governor Okorocha as a grand plan to cause the state of anomie and inertia with a view to causing disaffection and finally destroy our great party, having eloped to SDP with his archangels of destruction.
While assuring the good people of Imo State of All Progressives Congress resolve to retrieve the State from the clutch of misrule, we are prepared to go the hug to restore the dignity of the people.
Signed:
Chief Hillary Eke Dr. Clement Anozie
Chairman All Progressives Congress Organsing Secretary
Stakeholders