Rumblings in Ondo over APC's Disqualification of Akeredolu's Men from participating in NASS Primaries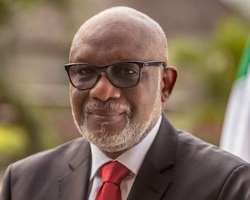 ...Action Illegal, A Declaration of War Against APC Constitution - Akeredolu


...NWC should return Our Money or risk Mass Action- Adetimehin


...Oshiomole has committed impeachable offence- Northern Governor


... Edo Voters will vote those you imposed on Ondo people, group tells Oshiomole

The last minute controversial decision of the National Working Committee (NWC) of the All Progressives Congress (APC) to disqualify all aspirants loyal to the Governor of Ondo State, Mr. Oluwarotimi Akeredolu from participating in the National Assembly Primaries of the party that is supposed to hold today across the state is currently causing palpable tension in the sunshine state.
The party had on Monday in a statement by its Acting National Working Committee announced disqualification of all Aspirants running for Senate and House of Representatives where there's an incumbent.
The party disqualified a Human Rights Activist and Lawyer, Dr. Tunji Abayomi and former Speaker of the state House of Assembly, Rt. Hon. Victor Olabimtan from contesting to return Professor Robert Ajayi Borofice unopposed to run for third term among others across the state.
But party executives from war to state level, cabinet members, party members and groups loyal to Akeredolu as splitting fire, warning the Adams Oshiomole led NWC of the party to be ready to face dire consequences if the action is not rescinded.
Their grievances, amongst many things is that the last minute disqualification of Aspirants from participating in the primaries after fulfilling all requirements known to law to allow incumbent Senators and Reps to return unopposed is not only illegal but fraudulent, surreptitious, clandestine and irresponsible.
Accusing the NWC of the party of breaching the party's law and acting dictatorial, Akeredolu in chat with our correspondent on Wednesday asked APC's NWC rhetorically "where do they derive powers to disqualify aspirants duly screened and certified fit to stand for election under the guise of giving automatic ticket to incumbent Senators and Reps members from"
Buttressing his affirmation, a totally embittered Akeredolu fired another salvo "This is a declaration of war against our party constitution. The decision to rig out our loyal and committed members from exercising their right after collecting money for nomination form from them was taken by few individuals.
"Legally, if such a fundamental decision is to be taking, it would have to be ratified by the National Executive Committee (NEC) on behalf of the convention since the convention cannot be convened now. It is NEC that acts on behalf of the convention. But from nowhere, a gladiator of illegally took a decision to ban my people from exercising their rights and they expected me to comply? This action will certainly boomerang if not addressed" Akeredolu threatened.
Corroborating Akeredolu, the Chairman of APC in Ondo State, Engr Ade Adetimehin said his people have given the NWC of the party 24 hours to withdraw the action or face a never-seen-before mass protest.
"All we are saying is that APC in Ondo State does not agree with the position of the NWC. We met here and decide in favour of Indirect Primaries as method of selecting our candidates as stated in our party constitution but NWC overruled us; we complied, now, Abuja is saying no primaries again, they have imposed people, some of whom are not even our members in the face of law to fly our ticket. This is unacceptable.
"Let me say very expressly that we shall wage war against the decision of some few cabal to turn our party to a rogue party. You cannot encourage people to obtain forms at such extravagant amount and then overnight tell them they aren't allowed to contest. On what ground? This is fraudulent and an act of stealing by tricky.
Exploding like a valiant soldier without a dint of fear, Adetimehin asked "why collecting money from party member for nomination form since you knew you wanted to give automatic ticket to some people? We demand a refund with accrued interest paid.
"But let me say for the sake of clarity and without any fear or favour that this totalitarian action was not unilaterally taken by NWC, it was a decision of a few individuals acting the script of an oligarchy." Adetimehin averred.
In a related development, a Political Pressure Group, Change Nigeria Movement (CNM) has sent a sticker to the National Chairman of the APC, Comrade Adams Oshiomole over the disqualification of all members of the party loyal to Governor Rotimi Akeredolu from participating in National Assembly primaries, describing the action as a humiliation taken too far against a sitting Governor.
The group wondered what the offence of Akeredolu is that he cannot be forgiven despite his unalloyed loyalty and tremendous commitment he has shown to the growth and sustenance of the party since it was founded years ago.
In a statement on Wednesday in Akure, the state capital, the National Secretary of the group, Comrade Adeniyi Bankole advised Oshiomole against running APC like Labour Movement, stressing that his action against loyal party members is an antithesis of all tenets known to democratic principles.
The group who accused Oshiomole of causing division in Ondo APC, warned that the former President of Nigerian Labour Congress and Immediate past Governor of Edo Strate must be ready to bring voters from his country home to vote for those he imposed against the people of Ondo State in next year general election.
"If truly the power of the people is the utmost in a democracy, we can assure Oshiomole that only his people from Edo State would vote for those he has imposed against our people in Ondo State. We declare him a personal-non-grata until he reversed his autocratic decision."
Furthermore, a governor from North West who does not want to be quoted for now told our reporter over the phone on Wednesday that Oshiomole has committed an impeachable offence. He said "It is at variance with the agreement reached between the Chairman of the party and the governors that everyone will be allowed to go and contest. The decision taken in Abuja was for everyone to go test his or her popularity at primaries.
"The decision to disqualify so many people under the pretext of giving some people automatic ticket is antithesis of democracy because neither the APC constitution nor democracy allows that you give automatic ticket unless it is unanimously taken. You can only give automatic ticket if the people you are representing agree and that is what the constitution of the party defines as consensus."
Speaking further, the Governor said "If you have a preference for a candidate, the constitution allow you to support your candidate to win. There is no provision in the APC constitution that allows for automatic ticket.
"As i am talking to you, 10 governors are aggrieved against Oshiomole but we shall see where it will all end. Ondo is boiling, there's war in Niger, there's no peace in Ogun State, Kebbi is not at ease, all with no thanks to Oshiomole" the governor said with an emotion-laden voice.
Our correspondent gathered that APC Governors will meet later tonight or tomorrow to protest meet in Abuja to protest imposition of candidates by Oshiomole, threatening to fight it by all means necessary.