Lafiya Dole: Army Determines To Restore Peace In Northern Borno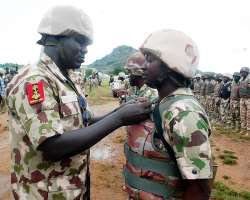 1. The Nigerian Army is ever ready to restore peace and ensure that normal life and business activities thrive in Northern Borno State.
2. The Acting Commander, Sector 3, Operation LAFIYA DOLE, made this known in Monguno during an inter denominational Church Service to mark the 58th Independence Anniversary Celebration.
3. He reiterated the commitment of the officers and soldiers of the sector in ensuring that lasting peace is restored in Northern Borno.
4. The Commander noted that though the job of soldiering is physically demanding, the nation will always count on their loyalty and commitment.
5. He also commended the troops for their dedication and selfless service, advising them to concentrate their energy on routing out the remnants of Boko Haram terrorists instead of commenting on frivolous issues in social media.
6. He informed the troops of the efforts of the present Army leadership to make their stay in the front line conducive through provision of basic amenities.
7. He promised that the welfare of the troops will continue to receive utmost attention it requires aimed at defeating the Boko Haram terrorists.
Brigadier General TEXAS CHUKWU, Director Army Public Relations