Nigeria Labour Congress suspends strike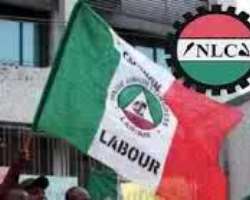 The Nigeria Labour Congress has called off the warning strike. The NLC President Ayuba Wabba disclosed this on Sunday, citing a firm commitment by the Federal Government to reconvene the tripartite committee on the new minimum wage.
By this development, workers are expected to resume on Tuesday after the Independence Day public holiday on Monday.
Meanwhile, residents of Ado Ekiti on Sunday abandoned church and besieged the various bank galleries in Ado Ekiti, the Ekiti state capital to make withdrawal as the strike enters the fourth day.
The News Agency of Nigeria (NAN) reports that there were unusual long queues of customers in virtually all the banks Automated Teller Machines (ATM).
Most of the banks ATM's in the city had been emptied by 10am on Sunday, and security men attached to these banks politely turned back customers.
The situation was compounded with few others with some cash inside of their machines giving messages such as "temporarily unable to dispense cash".
Out of the about 15 bank branches operating in the city, only four were discharging cash when NAN visited.
One of the customers, Mr Kolawole Jinadu said he was shocked to see such an unusual crowd, despite the fact that neither the state nor the Local councils had paid the September salaries.
Another customer, Mrs Olanike Owoade told NAN that attention was shifted to the ATM's because of the failure of some of the banks to attend to customers since the strike began last Thursday.
Owoade said she had to join the long queue despite health challenges because there were rumours that the banks might fully join the strike on Tuesday.
She said this may not be unconnected with the threats by the labour movement in the state to start picketing them as from Tuesday.
"I am here to withdraw the little balance I have in my two accounts before the money in the ATM's get exhausted. I had spent all I have on my two children who resumed to school for the new academic session which began on Monday.
"But I am now in dilemma as the children have again been turned back home as a result of the strike which came barely three days after the children resumed for the new academic session from the long holiday," she said.