Imo Deputy Governor Dissociate Self From Imo Equity Movement Screening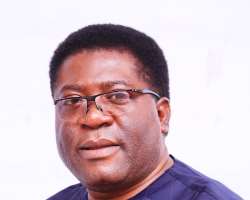 The Office of the Deputy Governor frowns yet to a group called Owerri Anyi/Imo Equity Movement over mischievous information being circulated round to misinform the general public that the Deputy Governor, Prince Eze Madumere came second in a purported Owerri Zone Governorship Aspirants screening Exercise.
The Deputy Governor found it embarrassing reading on social media and other platforms where his name was being thrown about as one of the participants of the purported screening exercise. It was even more worrisome to also note that he was alleged to have sent in representatives. We hereby clarify that the Deputy Governor neither put-in appearance nor sent any representatives, and if there was any, the person must have gone on his own.
Prince Madumere hereby totally dissociate himself from the said the screening exercise and described such as not only a blackmail but a calculated attempt to tarnish his hard earned good image.
We call on the numerous supporters of Prince Madumere's governorship aspiration to disregard the mischievous and unfounded exercise as the Deputy Governor was never part of the arrangement and could not have been scored without giving information.
The good people of the State are hereby urged to verify such stories especially in this season of politicking, which presents veritable ground for political merchants to ply their trade, throwing caution to the wind for the sake of monetary gains.
Uche Onwuchekwa is the Special Assistant to the Deputy Governor on Media