Okorocha, Madumere trade words over court judgement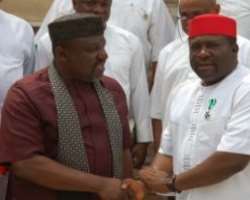 The dispute between Governor Rochas Okorocha of Imo state and his deputy, Eze Madumere, took another dimension after an Owerri High Court quashed the impeachment of the latter by the state's House of Assembly.
While Madumere has said that he remains the deputy governor, Okorocha has insisted that Madumere's ouster is a fait accompli.
Madumere had recently issued a statement as the deputy governor in which he said that the judgement of the court had vindicated him.
But Okorocha, speaking on Wednesday through his Chief Press Secretary, Sam Onwuemeodo, said that the statusequo should remains since he had filed a notice of appeal as well as a stay of execution of the judgement.
Okorocha said that he had refused to comment on the judgement immediately it was delivered because he wanted to read the full import of the judgment.
While describing the deputy governor as a confused man, Okorocha said: "The fact remains that Prince Madumere is confused. He does not know what he wants. He signed the statement as Deputy – Governor and at the same time parading himself as Governorship Aspirant on the platform of APC and of course, about 48 hours to the party's primary for the governorship."
• Daily Trust