Must We Diminish Okonjo-Iweala's Achievements To Praise Kemi Adeosun?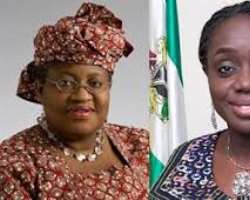 Every leader worth their salt endeavours to put in place the perfect succession plan; one where your efforts, hard work, and achievements are not pulled down by your successor, but built on, improved, and completed. In good governance, continuity is always the name of the game. Not so here. Even when the project is a laudable one that has impacted the lives of many, we still find administrations outrightly declaring they would not continue the programme at the detriment of its erstwhile beneficiaries. Projects die from neglect, and people suffer.
A good example would be to note that in Nigeria, we have as many girl-child and women empowerment schemes as we have had first ladies at both the state and local government levels. Now, this is not to undermine the efforts of these women; but imagine the traction we would have gained if each built on the successes and learnt from the failures of their predecessor rather than abandoning those projects to launch new ones with much the same life span.
Thankfully, we have had some good leaders who have indeed picked up from where their predecessor stopped. Kemi Adeosun, as finance minister of an administration which had promised to fight corruption, saw that in order to gain some traction in the anti-graft war, she would have to rely heavily on the good work of her predecessor, Dr Ngozi Okonjo-Iweala who had, with the support of the World Bank and the IMF developed an electronic financial management platform - the Government Integrated Financial Management and Information System (GIFMIS), including the Treasury Single Account (TSA) and the Integrated Payroll and Personnel Information System (IPPIS), to curtail corruption.
With such tools at her disposal, Adeosun quickly rose to the challenge of ensuring that the TSA, which was already 75% implemented at Dr Okonjo-Iweala's exit was fully implemented. Added to that, the 62,893 ghostworkers discovered by the IPPIS under Mrs Okonjo-Iweala, increased by over 100% as more MDAs and parastatals onboarded and more ghostworkers were discovered during Adeosun's tenure as minister.
This should indeed be good news to any well-meaning Nigerian. Unfortunately, what we have in this country is a peculiar strain of a virus called "Nigerian Politics" that sees praising one's predecessor as an anathema. What should naturally have been a "Paul planted; Apollos watered" story has turned into a political gambit for superiority as if that should be our biggest concern. The idea that it has to be one or the other is something that I find particularly worrisome. Must we diminish Okonjo-Iweala's achievements to praise Kemi Adeosun? I think not.
It boggles the mind to think about the way people sometimes approach issues. Even when in our personal lives and businesses we know that the early years of any venture are usually the most difficult and the most trying, it becomes easy for us to condemn in others what we so frequently excuse in ourselves. Every project is an iceberg. What is seen floating above and getting all the attention and adulation is infinitesimally small compared to what lies below the surface. If Okonjo-Iweala had not initiated and indeed implemented some of these very lofty and laudable projects, I wonder what Adeosun would have had to build on. Wouldn't she have struggled to keep some initiatives or policies from floundering?
Recall the YouWIN under Jonathan and the Buhari administration's YouWINConnect? You need not go farther than Twitter to get an understanding of how winners under the two platforms fared and which of the groups benefitted more and are better for it today. That is a classic example of how challenging it can be to run with "your own idea".
As a nation, even if our politicians and their hirelings choose to remain contaminated by this viral strain, we should be able to disassociate ourselves from their way of thinking and come to a point where we know that we need not discredit the one to praise the other. Such myopic way of dealing with people and issues should never be what we are known for or labelled by as a collective.
Rather than comparing one to the other, we should take pride in the fact that we had a finance minister who showed inimitable intelligence by mapping out initiatives and strategies that would be of value to the nation's economy and another who had enough grit to follow through on brilliant innovations in a clime where our modus operandi is to pull down and rebuild on rubble.
Mike Rapu is a social commentator who resides in Lagos.