Delta APC Carpets State Governor Delta Over Release Of N5 Billion To Offset Council Workers' Salaries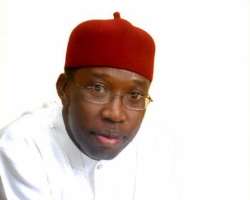 Delta State chapter of the All Progressives Congress (APC), has carpeted the ruling Peoples' Democratic Party (PDP)-led government of Mr Ifeanyi Okowa, accusing him for inflicting untold pains on workers of the third tiers of government.
This is coming on the backdrop of the release of N5 billion to the 25 local government councils to augment the payment of their workers' salaries last week Friday by the Okowa-led administration.
In a press release by the state Publicity Secretary of APC, Mr Ogheneluemu Sylvester Imonina, obtained by The Nigerian Voice in Asaba, Monday, the party said local government staff has been subjected to difficulties by the present administration in the last three years.
According to the APC Publicity Secretary, "For the past three years, Local Government Council workers in Delta State have being living in the throes of poverty, hardship and ridicules because of the unwarranted economic hardship meted on them by the government of Sen. Ifeanyi Okowa.
"Because of political reasons, Ministry of Local Government Affairs was created by Delta State government, and Local Government Council relegated to a position of a Ministry. Recently, President Mahammadu Buhari wanted to free Local Government Council from the jaws of the State by way of financial autonomy, but Delta State government, led by Sen. Okowa connived with the House of Assembly of the State and his like minds from other States and the bill before the National Assembly was strangulated.
"Before now, the song on the lips of Sen. Okowa was/is that it is not his responsibility to pay Local Government Council workers. Constitutionally, he could be right. However, in view of the fact that he never allowed direct Federal allocations to Local Government Council, but created an account for siphoning allocations accruing to them, Sen. Okowa is duty/morally bound to pay the salaries of Local Government Council workers. That moral obligation, he abandoned for the past three years.
"Sen. Okowa who knows that Deltans are tired of him, recently promised to make Five Billion Naira available for payment of Local Government Council workers because elections are around the corner.
The party urged workers to collect the monies/salaries, "for it is their right. However, they should do the needful by voting PDP government out of Delta State, come 2019".
It would be recalled that Okowa, last Friday released N5 billion to offset backlog of salaries of workers in the 25 local government areas of the state.