Celebrity Kim Kardashian went to watch Beyonce and Jay Z dressed like Barbie in human form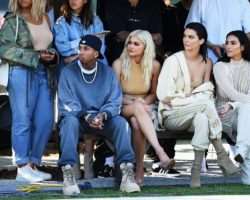 From Cosmopolitan
It's always been rumoured that  Kim Kardashian  and Beyoncé aren't the best of friends, but that didn't stop Kiki ( sorry, I went there ), turning up to Beyoncé and Jay Z's On The Run II concert, at the Rose Bowl in LA on Sunday night.
After Kanye West made the rather awkward mistake of sharing that Beyoncé was  wearing a pair of Yeezys this weekend . When she was actually wearing a pair of £34.99 shoes by Public Desire, Kim was joined at the concert by sister Kourtney.
Never one to dress for comfort, Kim arrived in bright pink jeans, which she teamed with a braless pink body and mini white Hermès Birkin bag. Essentially she looked like Barbie, if Barbie came to life, dyed her hair brown and ditched Ken.
While Kim was channelling her inner Barbie dream house, Kourtney stuck to our favourite combo – all black everything. Teaming her cycling shorts with nothing but a bra and jacket… Not one to try at home.
The Kardashian Jenner's seem to have a thing for pink at the moment. Khloe turned up to Kylie's latest makeup launch in a PrettyLittle Thing pink boob tube set.
Shop now  Shape Neon Pink Strappy Crop Top, £10
Shop now  Shape Neon Pink Bodycon Skirt, £10
Kylie has also been looking pretty in pink, for her launch she also came dressed in Pepto-Bismol colours, only she went for latex, instead of spandex.
If the Kardashian/Jenners can make cycling shorts happen, I'm pretty sure they can make us dress top to toe in ham-coloured items too…
Follow Laura on  Instagram .