Osun Rerun Election: PDP Threatens a boycott.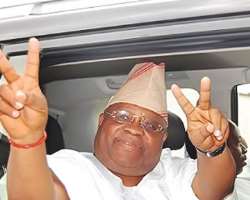 Mr. Babatunde Salami, Head of Communications, Senator Ademola Nurudeen Adeleke campaign committee was quoted on Channels TV to have said the party believes it has fulfilled all stipulated criteria by the constitution of the Federal Republic of Nigeria for winning an election and there should be no reason to declare the election inconclusive, as such they will by all possible means get the court of law to overturn the decision and announce Sen. Adeleke as the winner.
However, after unsuccessful attempts from the host of the TV show Seun Okinbaloye of Channels TV to know the definite stand of the Peoples Democratic Party on the election decision, Mr Babatunde Salami, said all options are still on the table and they will decide on what their final decision will be.
INEC declared the election inconclusive because the total number of votes with which the leading candidate leads the runner-up is not up to the number of registered voters in the 7 cancelled polling units. Senator Ademola Adeleke polled a total of 254,698 votes as against 254, 345 votes of the 1st runner-up, Alhaji Gboyega Oyetola of the APC. The number of votes in all the cancelled units are 3498 while the leading margin is 353. as such it can be deduced that should there not be cancellations in those centres, the election results might be different from what it is at the moment because any candidate could still win.
While this has been ascertained by INEC, it further stated that the election will be re-conducted in these Local Government Areas: Ife north, (one polling) unit, Ife South, (two polling units), Orolu, (three polling units) and osogbo, (one polling unit) on the 27th, September 2018 and a winner will be announced after that.