Osun Election: Police Arrest And Detain Electoral Officer That Tore Ayedaade Local Government Results.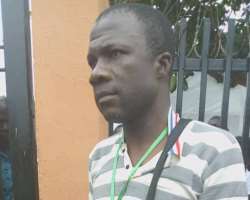 The Police have arrested and detained one Mr. Salau Mutiu Kolawole, an electoral officer who allegedly collaborated with a senior official of the Independent National Electoral Commission (INEC) to tear the result sheet of the disputed Ayeedade Local Government Area.
While announcing the results of yesterday's Osun State governorship election, INEC had said the All Progressives Congress (APC) polled 10,861 votes in Ayedaade while the Peoples Democratic Party (PDP) recorded 9,836. However, a result sheet circulating online has 10,836 votes — 1,000 more — against PDP's name.
The PDP agent at the INEC collation centre in Osogbo made the complaint, with leading PDP officials outside Osun State making the point as well.
The disputed 1,000 votes could prove crucial, as the race between PDP's Ademola Adeleke and APC's Isiaka Oyetola is proving one of the closest electoral tussles in Nigeria's history.