APC candidate votes in Iragbiji (Photos)
Odumakin commends INEC, Security agents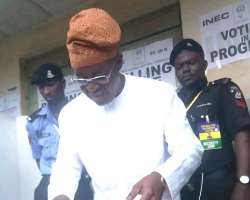 The candidate of the All Progressive Congress (APC), Alhaji Gboyega Oyetola voted at ward 1, unit 2, Popo Local Authority School in Iragbiji, his home town.
He commended the process as he expressed satisfaction over the conduct of INEC officials and security agents.
Oyetola lauded the voters for trooping out in larger numbers to perform their civic responsibility. He expressed optimism that he would win the election.
So far, the election has been very peaceful across the state and the turnout is very impressive.
People trooped out early to elect the new Governor that will succeed Governor Rauf Aregbesola this November.
Officers of the Independent National Electoral Commission, INEC, arrived early to the polling units.
As at 5:50am, INEC officers and security agents had arrived. Even voters trooped out before 7:00am to exercise their franchise.
Election started at exactly 8:00am at Ataoja voting centre, ward 13b at Fagbewesa area of Osogbo.
When our correspondent arrived ward 5, Orisunbare village in Ede South Local Government Area, at 8:15am, voting had already started.
Same situation occured at ward 4, unit 10, Alajue polling unit, situated at Seventh Day Primary School, Ede Unit 10, ward 4.
International observers from the United States Embassy were on ground monitoring the voting exercise.
The presiding officer of Ward 5 at Fagbewesa polling unit, Mr. Saheed Oyewole said the election officers arrived at 5:50am.
The party agent of Social Democratic Party at the polling unit, Mrs Sarah Alabi commended the conducts of the INEC officers saying "as at this morning, INEC has done well. The officers arrived early and they are well organised. They relate with everyone in civilised manner."
Despite the drizzling in Ede, voters were not dettered as they stood on their queues casting their votes.
There is large security presence in Osogbo and Ede and security arrangements were good.
Meanwhile, the President of Women Arise for Change Initiative" and convener of Campaign for Democracy, Dr. Joe Okei- Odumakin commends Osun voters for the large turnout.
She also lauded INEC for the proper conduct of the election. She also commend the security operatives for displaying professionalism.
She noted that one of the voters who mistakenly took a phone to the voting point was politely addressed by the security men and she apologised and complied with the order by INEC restricting voters from using phones at polling centers.
Odumakin said the process is smooth and that politicians in the state also conducted themselves very well at the polling centers.