Shehu of Borno appeals to gov'ship aspirant on Boko Haram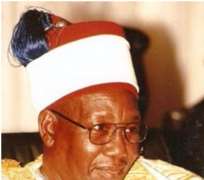 The Shehu of Borno, Alhaji Abubakar , Ibn Umar Garbai El-Kanemi, has appealed to one of the Borno State governorship aspirants in the forthcoming 2019 election under the platform of APC who is also a serving senator representing Borno central senatorial district at the national assembly , Senator Baba Kaka Bashir Garbai, to join forces with the federal government to stamp out Boko Haram insurgency in his domain forever if he wins the election.
The royal father's appeal came on the heels of recent Boko Haram attacks in the northern part of the state with reported attacks on some military formations and communities which raised public panic and fear few weeks ago.
"If you win your election, please join forces with the president of the country to combat and stamp out Boko Haram forever," the royal father appealed, stressing, "this is my personal plea to you."
The Shehu also urged Senator Garbai to allot high priority to youth and teachers employment and rural roads construction to open the rural areas of the state to enhance security and boost economic activities.
Speaking to newsmen later, Senator Garbai said he would accord topmost priority to ensuring that robust provision is always made in the federal budget for security, and that such budget actually gets to the security agencies responsible for combating Boko Haram.
"All hands must be on deck to ensure that the security agencies are well equipped and motivated to boost their morale and capacity to face all the challenges posed by the war against the insurgency," the governorship aspirant said.
According to him, he would engage the youth in agricultural production programmes, and reconstruct federal roads with state funds and seek reimbursement later.