September 16, 2018

| Poem
Poem On  "World Clean Up Day 2018"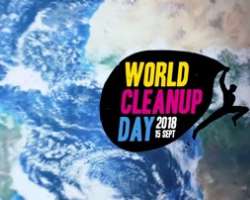 From Let's Do It World, we heard the sound far away,
And via Team54, it came nearer by the day.
Then appeared WHISGREEN-Africa,
And others who came together.
All over the world especially from the coastal states of Nigeria,
To the major towns in Gambia.
And Around the Cameroonian mountain,
In their numbers they poured like water from a fountain.
In boots, gloves and face masks,
Came each with lorries, cans and garbage sacks.
And with their voices, brooms and spades,
They sensitized and cleaned their states.
Oh my God!! Come take a look.
Everything seen was recorded in a book.
Garbage here and Garbage there,
Plastics and other nondegradable waste everywhere.
The team spirit and determination,
Sustainable goal 13 being their motivation,
Guided their activities,
And reminded the world of their environmental responsibilities.
Then came a shout of joy and praises,
A sound of victory and smiles on their faces.
Seeing mother earth free from things that steal it's riches,
With a perfect glow, came the beautiful Sandy Beaches.