Nigerian Customs Service Donates Relief Materials to IDPs in Borno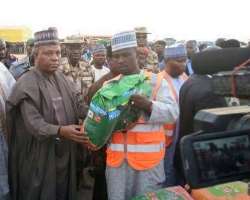 In continuation of the National Logistics Committee's (comprising of Nigeria Customs Service, Nigeria Army, Nigeria Police, Nigerian Security and Civil Defense Corps, Federal Road Safety Commission, NAFDAC, NTA, and News Agency of Nigeria) directive on interventions to alleviate the plight of people affected by the activities of insurgents in the North-East, the Committee was in Maiduguri earlier today for the sixth phase of items distribution.
It will be recalled that since February 2016, the Nigerian Customs Service, leading other agencies, with representatives of the media have been discharging the Presidential directive.
The items donated on presidential directive to donate seized perishable items to IDPs include:
1. Rice
a. 48,888 Bags of 50kg
b. 1,401 Bags of 25kg
c. 919 Cartons of Basmati Rice
2. Vegetable Oil
a. 8,708 Jerrycans of 25 ltrs.
b. 70 Cartons of 5 ltrs.
3. 2,012 Cartons of Spaghetti
4. 710 Bags of 50kg Sugar
5. Used Clothing - 482 Bales and 22 Sacks
6. 2,679 Pairs of Assorted Shoes
7. 100 Cartons of Rubber Slippers
8. 3,924 Pairs of Used Shoes
9. 196 Sacks of Used Shoes
10. 145 Cartons of Washing Soap
11. 2,448 Bales of Second-Hand Clothing
12. 51 Small Sacks of Ankara
13. 37 Bags of Children Shoes
14. 114 Cartons of New Shoes
15. 8 Big Sacks of New Clothes
16. 14 Sacks of Used Shoes
Governor Shettima while receiving the items for onward distribution to internally displaced persons, thanked the Nigerian Customs Service for their gesture, and commended their transparency.
He also thanked President Muhammadu Buhari, and the Comptroller General of the Customs Service, Col. Hameed Ali (rtd.) for the exemplary support.
The Governor reiterated the fact that the items are very good for human consumption, none is expired, and he will ensure transparency in the distribution.
Earlier in his remarks, the Chairman of the National Logistics Committee, ACG Abdulkadir Azarema commended His Excellency, the Governor of Borno State, Kashim Shettima for his total and selfless commitment to the security and well being of all the people living in the State.
He recalled that Mr. President, Commander in Chief of the Armed Forces of the Federal Republic of Nigeria, Muhammadu Buhari, GCFR, being concerned for Nigerians affected by the unfortunate activities of insurgents, gave directive to the Comptroller General of Customs, Col. Hameed Ibrahim Ali (rtd.) to donate all seized perishable items to the IDPs affected by insurgence in the North East.
He urged the camp officials to ensure judicious use of the relief materials for all the affected people. He also commended the military and other security agencies that are working day and night to sustain the relative security in the North-East, praying to God to reward them and help fellow Nigerians affected by the crisis to overcome the pains and rebuild the future.