Imo 2019: Dr. Charles Onuoha Picks Apga Gubernatorial Form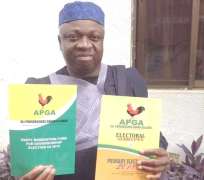 Prince Dr. Charles Onuoha; one of the Imo hopefuls for the Douglas house come 2019 has picked his nomination/expression of interest form at the headquarters of the All Progressive Grand Alliance in Abuja In what could be describedas a frenzy atmosphere of optimism and hope for the Imo people for restoration.
The Imo Restoration proponent; Prince Charles noted that he decided to offer himself because of the desire of the people of Imo State for qualitative governance in a way that promotes service delivery and a better standard of living for the people.
The Mbaise born Philanthropist, entrepreneur, politician cum administrator also identified basic areas of interest in which he is ready and willing to implement, if APGA as a political party and by extension his people can give him the opportunity to serve them selflessly.
Among his core areas of interest are youth and women empowerment and employment creation, because of his background as a technocrat and executive of various banks spanning a total of 25years. Education, health, security and urban renewal are some of his passions.
It is therefore another defining historical moment of political realism, of realignments and bridge building to secure a greater Imo State for the coming generation. Today's decisions have got far reaching implications for our future both as a people and as a state