Akume:  A Date with History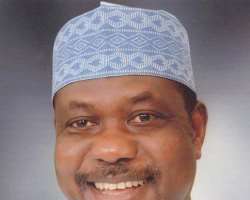 Sen. George Akume is undoubtedly one of Benue's biggest exports politically, after a successful civil service career having served from the lower rungs to its peak as permanent secretary and even moved to a brief taste of the federal service where he served his later benefactor Sen. IorchiaAyu as aide in Lagos.
Akume a man who many equate with the one of Northern Nigeria's greatest political exports and actually his uncle, Sen. Joseph SarwuanTarkaa came into political limelight in 1999 when with the combined efforts his boss Sen. Ayu and in-law Sen. Barnabas Gemade who insisted on his candidacy above the well favoured, Mr. Mike Mku.
Mkuwho was already a known political figure, having won the House of Representatives Seat in the previous political attempt and had a pocket deep enough to bank roll a campaign was rejected for an Akume whose political strength and financial muscle was depended solely on the promoters of the party who also preferred the humble Akume- an in-law and loyalist respectively, to the power brokers of the time.
Akume an underdog, ran a humble campaign under the umbrella of the Peoples' Democratic Party (PDP) climbing on the wings of the duo, Ayu and Gemade to beat squarely his contender Mr. Ignatius Nomwhange, a financially buoyant and well known Abuja based businessman who flew the flag of the All Peoples Party (APP).
Akume eventually became governor of Benue State in a landslide victory and ran an eight –year tenure, one which saw him severe ties with his erstwhile co-benefactor, Gemade at tenure's climax and also severing same with the other half, Ayu who abandoned the PDP for the Action Congress (AC).
At the end of his two terms as governor Akume successfully not only metamorphosed to the National Assembly as Senator as it has become common practice for retired governors, but also successfully installed a governor to replace him, in the person of the vibrant, outspoken and very well connected Gabriel Suswam.
Akume invariably became a political godfather himself.
Akume having done away with the influence of IorchiaAyu and Gemade, he began his own political dynasty by installing his godson as governor.
Unfortunately his reign as the lord of Benue state did not last long, as barely two years into Suswam's first term, they fell out. Suswam in a dramatic turn of events fell out with his defacto godfather over irreconcilable differences.
Although the real reasons for this fallout till date have not been uncovered, Suswam never hesitated to tell anyone that cared to listen that the reason for the fall out was the financial demand of the Akume family on his government.
According to the former governor his "then godfather" had placed a steady demand of a monthly 50 million of the state's allocation from the Federation account and juicy appointments while Akume's wife Mrs. Regina Akume had also demanded 10 million monthly and a share in every contract issued in the government. Suswam claims to have endured these conditions till the second year when this began to take a toll on his administrations performance due to increase in such monetary demands.
On his part Akume denied any of such claims by Suswam but claimed the fallout was as a result of his chosen favourite's failure to deliver the dividends of governance and thus his decision to dump him.
In the ensuing fracas Akume deserted the PDP and pitched tents with the Action Congress of Nigeria (ACN), where he pursued his return to the senate in 2011.
Being in an opposition barely known to the Benue masses who were already accustomed to the All Nigeria Peoples Party (ANPP), Akume knew he needed a sharp edge to fight his way back to Abuja.
The former governor who was made to fight against another political godson, Rt. Hon. TernguTsegba, whowas picked by Suswam to run against him, knew he had to devise a strategy to not only take attention away from him and also gain sympathy thus selling the trump card of oppression by a protégé he had installed oppressing him for caring about his peoples' well-being.
The senator did not only do that also looked for a strong force from Suswam's constituency, nay his local government to contest against him, thus the choice of Prof. Stephen Ugbah, an unknown diasporan who was given the party's ticket on a platter of gold after parading various other aspirants from that area.
Ugbah ran an electrifying campaign, one which shook the Benue political landscape with the chant of "Ugbahnyorishochangi".
However as electrifying as this campaign was, it served one purpose; to divert Suwam's attention from Akume and busy him at saving his own seat while Akume had a field day.
This worked like magic. Ugbah had his largest rallies in Akume's Senatorial district, Benue North West Senatorial district and barely visited anyother part of the state. It is actually on record that Ugbah's only visit to his local government of Logo and indeed his council ward was to obtain his voter's card and never campaigned in the local government.
This was seen as Akume's style to ensure that Suswam constantly saw Ugbah as the real threat and thus divert his energies at fighting Ugbah and neglecting his (Akume's) senatorial seat which he was sure will be a work over once Suswam's attention was divided since TernguTsegba was a work-over; thus Ugbah's concentration in Makurdi and Zone B which was closest to the seat of power.
This strategy worked; Suswam diverted his energies and finances at Ugbah, starved Tsegba of attention and funds to fight Akume and concentrated on the Ugbah who seemed more dangerous even as he campaigned only in Akume's Senatorial zone. Akume escaped electoral loss while Suswam believed he fought for his life.
Two things the political overlord won in this expedition; his seat and the peoples sympathy for been oppressed by his godson over the love of his people.
Akume went to the Senate, Suswam after a protracted court case against Ugbah, served out his last tenure.
However the Senator still sought his big comeback into the leadership saddle of the state and so in 2015, he gave safe haven to his former political ally Samuel Ortom who even in the PDP had maintained very close relationships with Akume.
Ortom a former minister, had been denied the PDP ticket after an elaborate campaign and was looking for an alternative platform to run for governorship, an Akume saw this as a golden opportunity to father a political orphan thus he set aside his already known candidates for the party ticket in a dramatic endorsement chose Ortom over those who had labored for the party.
Akume in this attempt had chosen in actual sense the best product for the market in that season as Ortom had known political pedigree and had the financial strenghth to carry both his campaign and Akume's thus on this front the Senator had another win-win scenario.
The marriage worked; Akume won, Ortom won.
However reminiscent of the Suswam/ Akume scenario only two and a half years into the tenure came rumours of a rift between the political couple as it was again claimed that Akume had an over bearing influence on the state finances and his wife in the same manner was demanding a portion of the state allocation.
The state ran into financial mess with the Akume's continuously denying involvement in the running of the state even as it was obvious that majority of the political offices in the state were nominated by him and even as the governor was openly subservient to him even at the chagrin of his trusted loyalists.
Today that denied rift has finally opened and Akume has gone back to his customary chant of falling out with his "godson" over the state of the state and is crying oppression that he is again being victimized by his own creation.
It is now however unclear if it has become his unwritten strategy to win on the wings of sympathy or it is his own way of politicking by causing disaffection to benefit. Nonetheless one thing is certain that the Benue People will watch and vote with their senses intact.
ThomasKucha is from Mballagh Council ward of Makurdi Local Government and he writes from Makurdi
Disclaimer:

"The views/contents expressed in this article are the sole responsibility of the author(s) and do not necessarily reflect those of The Nigerian Voice. The Nigerian Voice will not be responsible or liable for any inaccurate or incorrect statements contained in this article."