Debunking the Lies of Alex Otti and the Sophistry of His Paid Cohorts (1)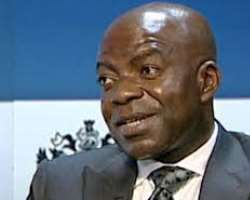 A fake report was published by a notoriously discredited blogger called Ikenna Ezenekwe, a young man already too ill-famed for his age as an unrepentant peddler of falsehood and blackmail using his ignominious blog 247ureports to exploit his targets. The report was reportedly authored by one Obinna Don Norman, another notorious hatchet jobber. The combination of these two in the ugly art of trafficking in maligning innocent people reminds one of the infamous partnership of armed robbery kingpins of the 80's, Lawrence Anini and Monday Osunbor.
Ikenna Ezenekwe and Obinna Don Norman's names reek of odious reputation in the media circles and those who know them have always distanced themselves from such scandalous fellows who dwell in calumny and make a living from deliberately assassinating the characters of prominent Nigerians particularly politicians with the intention of extorting money from them.
For the gullible, they succeed, but for those who have nothing to fear and trust in their integrity, they fail even though they still author and publish messier materials against such people with the hope that they would succumb to their opprobrious antics.
Ikenna Ezenekwe did it against Senator T.A. Orji, Peter Obi, Honourable Ekwunife et al, all of whom he made desperate attempts to extort by publishing wild stories either passed to him by political jobbers like Norman and enemies or he manufactures them himself.
Their latest target was Dr Okezie Victor Ikpeazu, the Executive Governor of Abia State, against whom Ikenna Ezenekwe published a bag of lies and wild accusations which no rational human being can ever believe as purportedly authored by Norman. In their latest blackmail piece whic the duo mischievously titled "Ikpeazu Wastes Billions On Drinks As State Plunges Into Perpetual Debt", they both left no one in doubt about their true intentions.
There was so much venom, even though puerile, in that report that indicates frustration from previous attempts by the duo to attract the attention of the governor, and outright falsehood in the story not to only deceive their unsuspecting readers but to also ultimately force the governor in for possible "Settlement". But Ikpeazu is not one to "settle" criminal-minded persons like Ikenna Ezenekwe and Obinna Don Norman. He is focused on settling the good people of Abia who elected him into office and gave him their trust for good governance. The governor would not trade this all important trust and mission for any scoundrel parading himself as a cheap blogger.
That story which Ikenna Ezenekwe published against Dr Okezie Victor Ikpeazu is nothing but tissues of sophisticated sophistry embarked upon by desperate politicians who want to get into Abia State government house by all means in order to feather their own nests at the expense of the people by engaging integrity-bereft people to do the dirty jobs for them.
For example, the governor, contrary to Ezenekwe's blatantly false report, has no need staying in any hotel in Abia State. If you come to Abia to see the governor, there are only two places in the whole of the State you are going to see him: the annex government house in Aba or the main government house in Umuahia, I mean at any time. Thank God some eminent personalities in Igboland have been part of delegations to see Dr Ikpeazu particularly during the planning of the hugely successful Handshake Across the Niger event which held in Enugu in January of this year. Surely, they can testify to the near austere entertainment they received from the governor. A governor accused of such fabricated flagrant lifestyle that exists only in the warped imagination of Ikenna Ezenekwe and Obinna Don Norman would have hosted them to a lavish party considering the calibre of people including captains of industry and well established diplomats that were part of that entourage to see him then. It is the same for everyone.
You see, when God wants to expose the lies of a stiff-necked people who still can neither stomach their loss at the polls nor the multiple ones they suffered in the courts, He brings them to the court of TRUTH where credible witnesses are alive to puncture their falsehood.
That is why they made the grave error of bringing these lies which they have peddled long enough under the cover of anonymousness to the public, to be really exposed for who they are.
As for Otti's essay, "Politics of Blood(y) Tonic", which they also made reference to as a witness to their carnival of mendacity, I responded very poignantly to it at the time. I know that the drum to this macabre dance by Ezenekwe and Normann is being beaten by Otti but it shall not last long.
Abia state came first in the whole federation for three consecutive years, back to back, 2015, 2016 and 2017, but the Ottis, Normans and Ezenekwes of this world think it's the sheer intelligence of the children while attempting to discount the efforts of government in achieving that rare feat.
Yes, if it was just a one-off achievement, maybe their argument may hold, but for three consecutive years? That is an eloquent testimony that the government is doing something right with these brilliant children which other states are finding difficult to measure up to. Or is it only Abia that has intelligent children attending its schools?
While other regions have simply become envious of this achievement by Abia particularly those that used to see themselves as the bastion of education in Nigeria, typical of some people as Ndigbo, they are making frantic efforts to ridicule it and smear it in tar. Remember the crab syndrome? Yes, that is it. If my person is not the one responsible for the success, we pull it all down. Sad!
For the avoidance of doubt, Abia is the ONLY state in the entire federation that feeds its pupils in school from primary 1-6. Even before the FG took over the feeding of pupils from primary 1-3 nationwide, Abia was already doing it. When FG took over, Governor Ikpeazu thought that it would be demoralising and saddening for a primary 5 pupil, for example, to take his/her younger one in primary 2, for example, to the same school, watch his/her younger one fed while he/she is not. So the governor decided that the state would be doing that for pupils of primary 4-6. That is how Abia today is the only State in the entire federation where all her pupils are fed in school irrespective of their classes.
These facts are easily verifiable.
A man who is falsely accused of lavishing money on champagne and hotel bills will not do this. If in doubt, ask other governors who do not feed their primary 1-6 pupils despite being far richer than Abia.
Today, school enrolment in Abia has risen from a paltry 150,000 in 2015 to a whopping 600,000 in 2018. That's because enormous investments have been channeled towards that sector.
Jude Ndukwe sent this piece from Umuahia!
Disclaimer:

"The views/contents expressed in this article are the sole responsibility of the author(s) and do not necessarily reflect those of The Nigerian Voice. The Nigerian Voice will not be responsible or liable for any inaccurate or incorrect statements contained in this article."