Gov Ambode Faces Challenge As Femi Hamzat Picks APC Nomination Form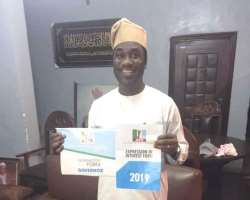 Former Lagos state commissioner for works and infrastructure, Dr. Kadri Obafemi Hamzat (popularly known as Femi Hamzat), on Monday, September 10, picked up his APC nomination forms to contest for the chance to fly the party's ticket in the upcoming gubernatorial elections.
The politically-savvy technocrat contested against the incumbent governor in the 2014 primary election. Born September 19, 1964 in Lagos state, Hamzat in August 2005 was appointed commissioner for science and technology during the tenure of former Governor Bola Ahmed Tinubu.
He retained his position when former Governor Babatunde Fashola took over in 2007. Hamzat as commissioner for science and technology was topical as he enforced the application of modern technology in the state's ministries, thus changing the face of data and record keeping in Lagos and at the same time eliminating the trend of state ghost workers.
In execution of his mandate, Hamzat's ministry has completed several key projects for Lagos state in the mega-city era. Dr. Hamzat has remained a key figure in the Lagos state government over the past few years.
Keen watchers are of the opinion that Hamzat remains a silent player and the aspirant to beat, if his superlative record of achievements in Lagos cabinet is anything to consider. Is he the game changer?