Dozens Feared Killed In A Gas Explosion In Lafia, Nasarawa state (Viewers discretion advised in embedded photo)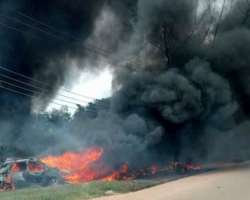 An apparent gas explosion and partial building collapse at a facility in Lafia, Nasarawa, on Monday left couple people dead and dozens injured.
" Several persons have been roasted beyond recognition and others injured, the Daily Post is reporting.
Residents said the explosion was so powerful that it damaged adjacent buildings and ripped out nearby windows.
Credit: PSN.

A victim of the gas explosion being evacuated to a Health facility