INDIA INFLATION RATE RISES TO TWO YEAR HIGH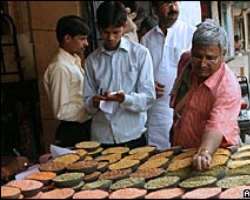 Indian inflation has risen to a new two-year-high, raising the possibility of interest rate rises.
The wholesale price index rose to 10.16% in May, the highest since 2008.
Rising food and fuel costs have pushed the rate well above forecasts, which were nearer 9%. The government says prices will come down soon.
The rise in the inflation rate comes after India recorded its fastest growth in manufacturing in at least 15 years in April.
Unlike most countries, India calculates inflation on the wholesale price of a basket of 435 basic goods, which means actual prices paid by the consumer are much higher.