Alleged Tinunbu's Alpha Beta Scam: Bode George challenges EFCC on N160bn scam as petitioner vows to make more revelations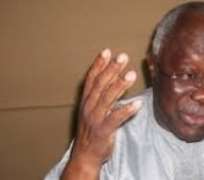 Leader of the Peoples Democratic Party (PDP) in Lagos State and former Deputy National Chairman of the party, Chief Olabode George, has reacted to the raging allegations of money laundering, fraud and tax evasion against Alpha Beta Consulting, a firm with exclusive right to collect taxes on behalf of Lagos State Government since 2002.
George, This Day reports, has said he hopes the Economic and Financial Crimes Commission (EFCC) would have the courage to find out the truth.
George said it was unfortunate that "those who called others thieves were the biggest criminals of all time."
Alpha Beta is linked to the National Leader of All Progressives Congress Asiwaju Ahmed Tinubu, who has no love lust with George.
According to the report, Adetunji Adegboyega, who is the lawyer to the man behind the revelations, the former managing director of Alpha Beta, Dapo Apara, has said more disclosures would be made available to the public concerning the alleged N160 billion Lagos taxpayers monies allegedly cornered by the company.
"I hope the EFCC will have the nerve to unravel it. It will be the biggest scandal that Nigeria has ever seen. It is mind-boggling and heart-breaking.
"All of them who had shared of the rot must be exposed. It will redeem the credibility of the EFCC. But first, they must shut the place down and a law enacted that no one must collect revenue on behalf of the state again and everyone involved must be exposed," George stated.
Meanwhile, EFCC has acknowledged receipt of the petition written against Alpha Beta by Apara. It stated that it was undergoing processing and evaluation just like other petitions before deciding the next step.
Apara had accused the company of tax fraud amounting to N100 billion. In a petition to the EFCC, Apara claimed Alpha Beta, the firm with exclusive rights to monitor and collect internally generated revenue on behalf of the Lagos State "had been involved in fraud and money laundering."