...Still on the youths and the Charley-Boy Republic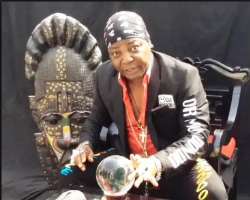 The Charley-Boy brand always elicits strong emotions and that is most probably because of the persona of the man behind the mask and what the brand represents. My writing for the last two weeks on the youths and the Charley-boy Republic( and even the four-week serial I did in 2011, trying to operationalise the CBR concept), was not about Charley-Boy. It was just about his popular catchphrase (Everything is possible), which I found to be a near perfect encapsulation of the Nigerian reality. The write-up drew reactions from far and wide and from different classes of Nigerians. I believe that people were first attracted by the Charley-Boy brand before imagining what he had to do with the republic before finally going to the roots of the write-up. One of the feedbacks I receive was from one unemployed compatriot, Joachin Nnaemeka Eze, who was not happy about the youth-bashing tendencies in the land and believed –and still believes-that the elders have failed the youths. My write up was not about the failure of the youths; it was about how they can get out of the Nigerian quagmire. After all, I had argued that the youths just copied the worst elements of the Nigerian madness, and of course, they would have copied it from the elders. He also took a particular swipe at Nigerian lecturers and the NLC. Anyway, here are his views, un-edited.
Dear Sir, I am writing with respect to the article published in Business Day newspaper on the 23rd of August, 2018, titled "surviving as a youth in a Charley-boy republic". it was pertinent for me to write, because the Nigeria youths as it stands has become a group only fit for admonishment. Every day I read numerous articles about how the "Nigerian Youths" fail to meet up with expected standards. Some of the articles, like yours; correctly identifies the insufficiencies of our youths, while some others are just in a haste to dish out popular messages used as a vehicle to achieve internet popularity.
The youths have failed! The youths have failed! The youths have failed! This seem to be the new national anthem, that even President Buhari couldn't resist the temptation of singing it. I agree that the youths have failed in so many quarters, but the truth is, the "Nigeria elders" failed us more than the youths of Nigeria. Our leaders of today were the youths of yesterday that have clinched firmly to power, making it very attractive to themselves and creating all sorts of barriers to discourage the youths from participating effectively in leadership. Please don't use an example like the Kogi state governor as yard stick of what youths can do in power. Everybody knows Governor Bello is a disaster, and even as a youth I hate being reminded of his existence.
Nevertheless, we have youths in some quarters that are very focused and willing to make a positive difference in both Nigeria and the world at large. Somehow, the system provides a somewhat bleak reward for effort, thereby discouraging hard work and encouraging bandwagon mentality. For instance, I struggled through school (when I say struggle I don't necessarily mean financial struggle). I had to study the books myself, do assignments myself, understand each course all by myself. We did have lecturers; yes we did, but what is the need of a lecturer who does not understand a course or does not even want to put effort into anything apart from pursuing unionism and fighting for salary increment. That is always the problem about the old generation; fighting for personal interest and leaving the collective interest fight for the youths.
Everyday NLC talks about minimum wage increment forgetting that the unemployment rate is increasing on a daily basis. If government revenue does not increase and minimum wage is increased, how then is government supposed to absorb more staff? Nobody talks about us, everybody wants to sit at home and sing the "Youths have failed" anthem. But what about our elders, are they better? Off course they are not. They enjoyed free education, good academic facilities, and good jobs after graduation. What did they do with it? Nothing. They used it to destroy Nigeria, promote tribalism and nepotism and purse personal and parochial interests.
As a youth I am unemployed, yes I know. But every day I work hard to develop myself both as an individual and as a quality engineer. The mental torture, depression and stress that comes with it makes it difficult. Be it as it may, we can only try our best as individuals. I have been to two interviews and was disqualified because of my church and ethnicity. This is Nigeria and that is how these things work, we know. But please sir it will be like adding salt to the injury caused by our elders if elders keep maligning youths, making it look as if the youth is the Nigeria problem. That will be grossly unfair on the "Nigerian youth" because we are not the problem.
Well, these are his undiluted views and I have nothing to add. But those who might consider him for a job offer can do so through [email protected]
Other matters
Some Nigerians are very mischievous and the limitless online capabilities have made it very easy for us the market our mischief, at times, at the expense of very powerful individuals, especially those who readily forget what they said yesterday. On 4/9/18, Tosin Adesina of YNija reminded our dear president( whom some people accused of ruling Nigeria from abroad) of what he said on 21/2/15 and declared that his recent China Trip has 'confirmed that he is not a man of his words'( I did not say so!). The weighty Buhari declaration, which Tosin is now reminding him of is this: 'What is the difference between me and those who elected us to represent them, absolutely nothing. Why should the Nigerian president not fly with other Nigerian public? Why do I need to embark on a foreign trip as a president with a huge crowd with public funds? Why do I need to go for a medical trip abroad if we cannot make our hospital functional' The writer then recalled that President Buhari travelled to the 7th summit of the Forum on China-Africa Cooperation held on 3-4 September with 4 governors, 3 Senators and 9 ministers, and several official and personal other aids and aids of those aids. Some others have even compared Theresa May's entourage to Nigeria( world-class entrepreneurs and corporate chieftains) with the PMB entourage to China( Politiciansespecially electoral consultants and defection managers). We are trying; are we not?
Ik Muo( PhD), writes from Department of Business Administration, OOO,
AgoIwoye. [email protected] ; [email protected]
Disclaimer:

"The views/contents expressed in this article are the sole responsibility of the author(s) and do not necessarily reflect those of The Nigerian Voice. The Nigerian Voice will not be responsible or liable for any inaccurate or incorrect statements contained in this article."