APC bigwigs plot Oshiomhole's removal as party chairman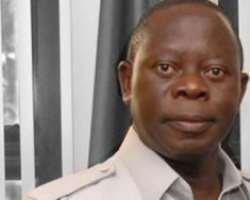 Plots are afoot by some members of the National Executive Committee (NEC) of the All Progressives Congress (APC) remove its chairman Mr. Adams Oshiomhole over his "destructive tendencies".
A report by Bridge cites inside sources in the party as saying that the plot was gathering steam following what they called the destructive approach of Oshiomhole in the management of the crisis of the APC.
Oshiomhole was elected as APC chairman on June 24 at the party convention in Abuja, replacing his kinsman Chief Odigie Oyegun, who was made to withdraw his candidacy under duress by some key party stalwarts.
According to the report, the inside sources spoke on the condition of anonymity.
"He is killing the APC and if nothing is done to contain his excesses, APC will just be a thing of the past. We must do something urgent to rescue the party from Oshiomhole otherwise we will be in the cold," one of the sources said.
Oshiomhole was elected chairman of APC in June following the pressure on Chief Odigie Oyegun to step down from seeking a re-election as the party chairman.
The APC sources who spoke to our correspondents, on the condition of anonymity said the damage that Oshiomhole has done to the APC since assuming office as the party chairman has been grave and that if not curtailed urgently it could destroy the party completely and could catapult the opposition party into power in 2019.
"Oshiomhole has done so much damage to APC than any other chairman the party has had since the merger. President Muhammadu Buhari was made to believe that Mr. Oshiomhole was the only man who could deliver APC in the present circumstance but the way he has handled the party so far has shown that he is the wrong candidate for the job. You don't use divisive approach like he is using in handling a party that has so much trouble the way he is doing now. Buhari believes that Oshiomhole is the only person that can redeem the party but that has proved not to be true. He has created more division in the party than previous chairmen and we are making moves to ensure that he is removed from office," one of the sources told out correspondent.
The source added that they are waiting for the primaries to be concluded before making the move.
"We do not want to cause distraction during the primaries, we want to conclude the primaries before initiating Oshiomhole's removal. If he is not removed, APC doesn't stand a chance in 2019. This is not the time to have a chairman who fights everybody and cause so much division in the party. We need to act fast before the APC is destroyed," another APC source said.