DELTA SOUTH: Senatorial Hopeful Throws Weight Behind Buhari's Second Term Bid
… Says Uduaghan Would Step down For Him, Denies Receiving Bribe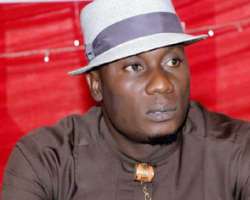 Ahead of the 2019 general election, an aspirant under the platform of the All Progressives Congress (APC), Chief Michael Johnny, has added his voice to the growing support of President Muhammadu Buhari's reelection as the president of the country.
Johnny, while addressing newsmen at the party's secretariat in Asaba, Wednesday said President Buhari, meant well for Nigerians and indeed the country, saying that projects embarked upon by Buhari would not be left without completion.
Hear him: "With what he has done in this country, you will know that he is a true leader, not all those ones that will do ground breaking in one project but at the end of the day, the project will not stand.
"But the entire projects that President Buhari started, he is going to finish them. Nigeria is getting back to its feet through Buhari. We are getting back our lost glory and dignity. All the glory we have lost in the international arena is coming back to Nigeria. Nigeria is taking a better shape through Buhari".
Responding to alleged receipt of money to dump his aspiration, he noted that no one could pay him off the race among his opponents in the party, noting that he would not throw away the mandate of his people.
His words: "I didn't really want to comment on that but since you are asking me now, I will answer you. Look! people who know Michael Johnny very well knows that they are trying to blackmail me and that is not possible. Among the people that are contesting with me, nobody can pay me money to step down. I have seen money even before they became governor, even before they became senators and the rest.
"So, what is making people feel that I will abandon the mandate of my people and collect me, to do what, to buy cars or to build houses that I have not built before. If any of the aspirant says he has given Michael Johnny even N1000, the person should come and say it in the public, I challenge any of the aspirants.
"So, if you know the name Michael Johnny very well, you should know that people are just blackmailing me on the social media. It is the normal blackmail, I am used to it. I'm not ready to step down for anybody".
He said that the defection of the former governor of Delta State to the APC was not a threat to him rather his ambition is a threat to the former governor, pointing out that he was in party before the coming of Uduaghan, "My coming for the senate is a threat to Uduaghan, Uduaghan cannot be a threat to me. I have been in this party before he came. The people know me before Uduaghan came. There is no way Uduaghan joining APC will be a threat to me. Uduaghan will definitely step down for me before the primaries".
Johnny vowed to put an end to youth restiveness if given the mandate to represent his people in the red chambers of the National Assembly (NASS), stressing that local content would be fully exploited as he would join hands with other senators, "If I am elected as the next senator of Delta south, I am going to introduce a law that will benefit my people. I will introduce a law that will tackle youth restiveness in the area. Look, we are from an area that has too much oil but our people are not benefiting from it.
"I am going to work with my colleagues to introduce a law so that we can utilize the local content to the benefit of our people. We will bring development. We will make a change that people have failed to do over the years. That is my mission", he declared.