THE PROFESSOR ATTAHIRU JEGA I KNEW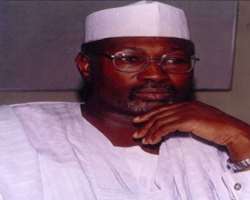 PHOTO: PROFESSOR ATTAHIRU JEGA.

Recently, the former Vice Chancellor of the Bayero University, Kano, Professor Attahiru Jega was appointed and confirmed as the new Chairman of the Independent National Electoral Commission (INEC) by President Goodluck Jonathan and the council of state. This appointment is expected to be ratified by the Senate Shortly.
Professor Attahiru Jega's fame began as far back as 1988 when he was the President of the Academic Staff Union of Universities, ASUU. At that time, I had just started the journey for my university education. I was not so much inclined or fascinated to who was Attahiru Jega until 1991 when I completed my first degree at the Bayero University, Kano.
On completion of the one year national service in September 1992, I got appointment with the then School of General Studies (SGS) of the university as Graduate Assistant. This was how I came to know the man Attahiru Jega under the umbrella of ASUU chapter in BUK. This was a period of struggle for emancipation of the university teachers across the country. Indeed, both the condition and atmosphere of the university communities in Nigeria were terribly bad and appalling. The dictatorial military regime of the former military President, General Babangida failed woefully to do any thing about the rottenness of the university system in Nigeria. ASUU, under the radical leadership of Attahiru Jega fought Babangida regime tooth and nail for the interest of the university system that was crumbling.
But Babangida won't listen. Likewise, the man, Jega won't also kowtow to Babangida's antics to nail the coffin of the university education in Nigeria. I could still remember how Attahiru Jega used to inform us to fight on and never to give up the struggle amidst proscription of ASUU, stoppage of salaries and other forms of harassments by Babangida regime. Attahiru Jega was really down to earth both in word and action. He was a man that hardly gives up the struggle. Before Jega left the stage and handed over to Professor Assossie Assobie on expiration of his tenure in 1993, he had already imbibed the spirit of struggle in every university teacher. This was how Jega became a household name in and outside university communities.
In 1994, I became the ASUU PRO of BUK Branch; we tried to adopt Jega's radical posture in looking at issues. Unfortunately the same system that we tended to fight for misconstrued our approach and fought us back. The system was so coercive and resistant that I, in particular, could not join them and had to accept being forced out of the bad system, believing that he who fights and runs away lives to fight another day. When Professor Jega became the Vice Chancellor of BUK in 2004, I simply assured myself that the Professor of political economy and Nigerian politics was going to give BUK the desired progress.
After his six years on the thrown as the head of an academic community, Jega did not leave any one in doubt that he was in BUK for serious business. He introduced dress code. There were internal promotions of academic staff members. He carried out some structural changes and made BUK a real citadel of learning. I had cause to visit BUK, our alumni in recent time. I was highly impressed to see fundamental changes in the university under Professor Jega even though the university could not boast of not being affected with brain drain, non performance of research grants, strikes, etc. These are not even the problems with Jega as the new Chairman of INEC. Considering his pedigrees as a man who believes in radical transformation of a society, one is not sure if he would be able to make the require difference at the INEC in view of the evil machination and desperations that now characterized the politics of Nigeria.
Professor Attahiru Jega might be good in both character and learning, something keeps assuring me that if care is not taken, he would follow the same footprint of his predecessors. At this juncture, we should know that when government wants to accomplish certain self centred mission, it tries to look for a known credible personality, use and later drop them. This had happened to the likes of late Tai Solarin, Nuhu Ribadu, Nasir El-Rufai and some many radicals in the country. It is now the turn of Professor Attahiru Jega to be used or resist any temptation. At the beginning, the people accepted government's encomium on Ribadu as a messiah, not knowing that the government was going to use him for its selfish motives. No sooner did Ribadu resume his work at EFCC than he started pursuing those who were not inclined to government positions. This gave impetus to Obasanjo to emit his do-able and un-do-able.
We should not forget that Jega is the first northerner ever appointed to over see general elections in Nigeria. In the past, we have had Mr. Eyo Esua (1964-1966), Chief Michael Ani (1976-1979), Justice Victor Ovie Whisky (1980-1983), Professor Humphrey Nwosu (1989-1993), Professor Ekon Edet Uya (1993), Chief Sumna Dagogo-Jack (1994-1998), Dr. Ephriam Akpata (1998-2000), Dr. Abel Guobadia (2000-2005) and Professor Maurice Iwu (2005-2010). All these past Chairmen of our general elections are southerners. So, it might not be a coincidence that at this time in our political history, a northerner, from Kebbi state is appointed to oversee the 2011 general elections in Nigeria.
Professor Jega was a member of the electoral reform committee that gave out its far reaching report to the government for adoption. Up till date, no one can say what happened to that report. Its juicy areas that are capable of instilling electoral credibility seem to have been edited and thrown to the dogs. Indeed, there are some electoral reforms that Jega requires to carry out. But time seems to be running out for the radical Professor and perhaps would not be able to make such changes before the 2011 election is rushed. Thus, those who appointed and would ratify Professor Jega know why they carried out the appointment at the eleventh hour when 2011 is approaching very fast. Even the Senate has already said that it is not in hurry to screen Jega because it is not urgent.
It is now an open secret that some people are bent on drafting President Goodluck Jonathan into the 2011 presidential contest, against the backdrop of his party zoning of the position to the north. As a matter of selfishness and desperation, the people seem to be saying that it is now the turn of Niger Delta to become President of Nigeria in 2011, especially now that opportunity has opened. If this belief continues and Jonathan is finally lured into accepting the call to contest the 2011 Presidential poll, Professor Jega would have no choice but to fulfill his mission by ensuring that his benefactor is made to continue as President of Nigeria in 2011. If this happens, it is then that people would be able to differentiate between campus radical and the reality of Nigerian politics. But the Jega I knew may not allow these opportunistic tendencies to undermine his credibility, even if it means disappointing those who appointed him to favour them.
Nevertheless, we do not expect Professor Jega to confirm our feelings as he would be the biggest loser. We respect him very much and he should not in any way disappoint Nigerians who have been eager to see credible election in Nigeria irrespective of who is involved in the final contest of the general election in 2011. A word, they say, is enough for the wise. I hope the Professor is listening.
Saka Raji writes from Kano - email: [email protected] 
Disclaimer:

"The views/contents expressed in this article are the sole responsibility of the author(s) and do not necessarily reflect those of The Nigerian Voice. The Nigerian Voice will not be responsible or liable for any inaccurate or incorrect statements contained in this article."
Articles by thewillnigeria.com