Discordant tunes from a local Nigerian beer parlor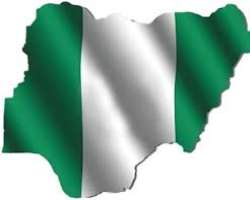 Soft music coming from the small radio by the window
Through Jesus Christ, our Lord
*[CHORUS] AMEN, AMEN, AMEN - [AFTER EACH LINE]
By the Grace of Allmighty Lord
Through Jesus Christ, our Lord
By the Grace of Allmighty Lord
Inspiritus Christus, Mass Christus, Mass Christus, Mass Christus,
Alla-hu, Waku-baru, Salem Elekum, Alla-hu
Through Jesus Christ, our Lord
By the Grace of Allmighty Lord
Emeka; Una hear say dem don ask those southie people wey dey run DSTV things to leave the former price of subscription where e dey.
Ochoko: Yes, but dam no gree shake bodi, and I still dey pay the new rate and dey carry our money dey shine Congo go.
Efe: No be their fault, dem dey see as we dey run we matter, after all Presido talk say national interest pass rule of law, no be say I understand that oyinbo. But me I sabi say the increase in price is in their own interest and against our own law. Shikena!
Emeka: Every corner na wahala full am for this our Naija, my Igbo brothers say we go protest onto Biafra matter this September. I just tire. The whole sickness we dey suffer na because we no like weself.
Efe: Na lie, Emeka, leave story, me I think say the problem be say we too like our self. I just dey come from police station, the tori no get part two.
We wan hear (all chorused)
Efe: Dem be talk say one of that our local Pastor for area bin organize one babe from Kaduna, the muslim girl na sweet babe, I take my eyes see am, Pastor send am money through transfer, as she show dem waka go one of we hotel, finish dem runs, the Pastor say him cash no reach and him go pay through transfer, true-true him transfer but hotel manager say democracy no see transfer na so dem carry themselves go police station. Pastor, Muslim girl, and as if matter no fit bad, dat herbalist wey collect money say him go stop rain for doctor wedding reception say make dem allow am check weda the money don enter, na only the herbalist get data for fone, imagine!
Usman: Afta dem go talk say we no love ourselves, dat time we dey Plateau state Poly all those our Christian boys wey sit down with Ibrahim nobody fail that maths exam, na so Ibru open him answer sheets. I ask our Imam dat time who go enter hell fire, Ibru wey open book, or Emma and Kachollom wey copy. Una wan hear the answer?
We wan hear (all chorused)
Usman: He talk say nobody, becoz all of dem pass the exams.
Efe: Na wa for us, una hear say Davido don go service, as in NYSC, and after him register na USA him waka go?
Ochoko: Which one of dem sef be Davido, I no too sabi all of them, I just sabi say, all their videos, if the babes no naked gabadaya na only pant dem go wear. This world don spoil, but sha na statement ooo, if Davido fit serve, make Jumoke, abi wetin be that our finance woman make she too serve, dem fit post her to the ministry of finance sef.
Emeka: If I hear you, abegi comot for road..
Usman: No leave am make him stay for road small time na to start to cry like Atiku.
Efe: Wetin make the Adamawa man dey cry
Usman: Hmmmmmm, the things wey dey make person cry for this contri plenty
Ochoko: E plenty ooo, and e weak me, I hear say Uduaghan, Sherif and Akpabio attend APC caucus meeting, imagine the cranking bunkum.
Haba (all chorused)
Efe: Ochoko, you don come again which one be cranking bunkum. It takes two abi how many sef to tango. Na we-we, dem sabi demselves. See all the energy dem take dey fight for power, and position.
Usman: Na God go save this kontri, see as we just do mouth shut up over the containers wey carry bomb dey come Naija from South Africa.. Only God sabi the ones wey don enter.
Emeka: You hear the gist about those new boys wey dey do new village masquerade called PACT, dem bin agree to choose of them to run as presido but after one 419 meeting all of dem dey cry ojoro, we no go gree. The guy wey dem choose abi wey win say make dem pray.
Ochoko: Our palavar no dey get part two, we tori no dey finish, how we wan grow, or waka go front na we dey pray pass, to do photocopy for some towns na die on Sunday because na sabbath day, but come see us on Monday, today sef no be us sidon here with some bottles.
Usman: I remember that that night abi na day sef of saint one-thing something wey carry our community money buy motor. Na so we go close road on Friday, the Alhajis we get plenty pass all the Arab countries dem join together. Yet na we dey commit sin pass.
Efe: Bar man abegi this Isi ewu, e be like say na stubborn one as since we take order we never see am, anyway gives us one -one bottles and increase that radio volume, no be Fela wey dey play for radio
Bar man increases radio volume
I say I waka-waka-waka-waka-waka-waka-waka
(HORNS response)
I waka any village anywhere in Africa
I waka any village anywhere in Africa
Pastor's house na 'im dey fine pass
My people dem dey stay for poor surroundings
Pastor's dress na 'im dey clean pass
Be it hard for my people for dem to buy soap
Pastor na 'im dem give respect pass
And dem dey do bad-bad-bad-bad-bad-bad-bad-bad-bad-bad-bad things
Efe: This our kontri don lost, see all the money we dey waste and we go sidon dey pray for development, dey pray for long life and good health. Dey fast and pray against sudden death. Pray against accident of any kind. Dey pray for employment. After we thief finish we go dey pray to make heaven!
Music fading out
I say, look Yar'Adua!
I say, look Yar'Adua!
Before anything at all, him go dey shout:
"Habba Allah, habba Allah, habba Allah!"
"Habba Allah, habba Allah!"
And them do, yes yes
And them do bad bad bad bad bad bad things.
Through Mohammed our Lord
(Amen, Amen, Amen!)
By the grace of Almighty Allah
(Amen, Amen, Amen!)
If it is not Fayemi hiring 35 lawyers for an Ekiti elections that he won, it would be Benue state diverting funds for school feeding program, while we take slow steps forward, GDP declines and economic woes increases, if in 2018 we are still playing the politics of Ganduje of Kano state heading a 63 member Osun APC campaign council then we are still off the mark, the odds continue to dwindle that there is hope in the horizon, the bad things that we all do is no where near ending, should we then continue like this—Only time will tell