The Shackles of the Nigerian Civil Service - Part One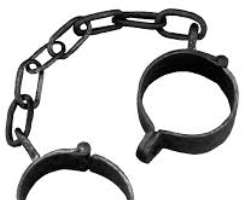 Shaku-shaku might be a recent groove in our music terrain, but it is not new to our nation; there is a form of shackles that is as old as our nation-state: the shackles of the Civil Service. The Nigerian Civil Service as it is yet retains that mantra of the colonial times: Apes, obey! And the gods help you if you don't fall in line!
There was a woman who boasted that she had spies in every office because of her whistle-blower policy, and then the certified whistle blew on her. But rather than own up to her error, hold her head high and honourably resign as we see done in those other climes that her boss considers worthy of visiting ever so often to say we are lazy corrupt criminals, she swallowed her honour, lost her voice, and defiantly stayed put na-dem-dey-rush-us style; typical Nigerian public servant attitude: leave me and I will leave you; leave me o, else…
Welcome to the Nigerian Civil Service! In the Nigerian Civil Service, everyone has dirt on everyone else; nobody holy pass. Which was how the concept of National Cake came to stay: chop make I chop. Chopping mouths must not talk, that is table manners as well as Service manners. Even the rats padding budgets and the snakes swallowing millions know these. Those animals are a very observant lot, you see.
A career military man recently wooed me into joining their Service and in my usual bare-it-all approach I told him I'm reluctant to join any form of service at all because I won't last in it. The simple truth is that having studied my family history, I know enough antecedents to know that I cannot survive government work. The man innocently asked me, "How then did I survive for over thirty years?" "The answer is not farfetched sir, you compromised and I cannot!"
The prize that civil servants pay to continue to dance in the Public Service is to gather their wrists in front, or behind, with fists clenched in futile protests, and sway their fragile feet to clear the path for their masters' thievery and to cover up after them. They dribble Integrity so the meagre wages may trickle in. In this shaku-shaku dance, as it is elsewhere, he who pays the piper calls the tunes. And when it's time to exit the stage of Service, they do anything to stay put, falsify ages even, because decades of slavery have taken their toll.
Corruption in the civil service is the proverbial elephant in the room: we all know it's there, even Mr. Integrity; he's too big to not be seen, but no one wants to touch him because, hmm…, he has a strong trunk to lift The Grasscutter, his cousin and his nhis; has eyes for Miner and Dowrer and Maiami (in Dade County, Florida); has ears for national security and public interest; has expensive ivory tusks dangerous to the rule of law, even as he sits on court orders; and, oh, the elephant never forgets!
This is Part One. In Part Two, we shall look at one simple way of curtailing this menace in the Civil Service. It shall not be the mass retrenching of workers, or spending billions on elections, sorry, workshops; it shall be Entrepreneurship. Most civil servants are in to survive, so that the urge to continually provide food for oversized families and many dependents drowns the periodic promptings of their weary consciences, with the net effect that they look away and play dumb.
And, oh, there is a woman in the Civil Service who blew the whistle on a Presidential Miner and is unscathed, yet; the elephant has a long memory, you do well to recall. When the second coming is secure, we shall hear the last of it: she will hear "wehn"!
Dr. Ayokunle Adeleye customarily writes from Sagamu, Ogun State.
Disclaimer:

"The views/contents expressed in this article are the sole responsibility of the author(s) and do not necessarily reflect those of The Nigerian Voice. The Nigerian Voice will not be responsible or liable for any inaccurate or incorrect statements contained in this article."