Nze Joe Anyama Was Our Mentor _ozcoj ...regrets His Demise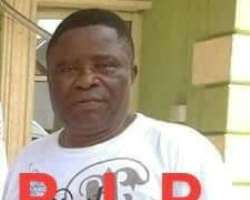 Members of Orlu Zone Congress of Journalists (OZCOJ) have expressed their regret over the passing on to glory of one of their own, Nze Joe Anyama, who was the Publisher of Announcer Express Newspapers, describing him as a mentor, role model and professional.
Coordinator of OZCOJ, Amb. Ikenna Onuoha made this disclosure in Owerri, he regretted that Nze Anyama died when members of the group were ready to tap from his wealth of experience, and expressed bitterness for his departure.
According to him, late Nze Anyama was a great man, a veritable source to OZCOJ, and a known name in the media industry who rose from nothing to something as a result of hard work, determination and commitment, and prayed God to repose his soul in his bosom.
Amb. Onuoha, in an emotion laden face called on members of OZCOJ to take solace in the Lord who has decided to call his son home, and charged them to continue to replicate the good legacies the deceased left behind in the media industry.
He maintained that from every available records, late Nze Anyama was a good man, a source of inspiration, very social and jovial, regretting that Orlu Zone, the state and Nigeria at large have lost a great beacon of unity whose vacuum may not be easily replaced.
Amb. Onuoha, on behalf of members of Orlu Zone Congress of Journalists therefore appealed to those mourning his departure not to be empty in praying for his soul, saying that his numerous contributions for the development of the state while alive would continue to remain indelible in the hearts of many.