Buhari's popularity is waning in the North: Turaki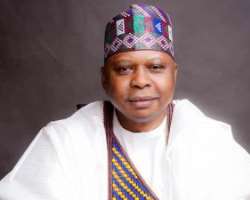 KABIRU Tanimu Turaki, frontline Peoples Democratic Party, PDP, presidential aspirant, SAN has said that President Muhammadu Buhari could no longer muster 12 million votes in the North due to his dismal performance, deceitful propaganda by his government and ill-treatment of the people.
The so-called 12 million voters the All Progressives Congress, APC, is laying claim to in the North would have been reduced drastically since 2015. "How do you expect them to come out and aggregate votes up to that number for somebody who has been the architect of their current misfortune?" Turaki asked.
The presidential aspirant also denouced the Buhari's restrictive definition of corruption.
He said: "Their definition of corruption is deliberately restrictive just as they exhibit impunity in selecting which order of courts or aspect of the rule of law to obey. Otherwise, how do you explain their claim that the alleged NYSC discharge certificate saga involving one of their top government officials is not corruption? Corruption is not about money alone which they are neck-deep in, but also includes perversion of integrity which is their hallmark. Nigerians know all these things."
He also faulted the claims of project executed by the federal government insisting that "If you look at most of the projects they are laying claim to, they were projects established by PDP governments, especially the Jonathan administration – from roads to railway, to airports rehabilitation and even the Treasury Single Account policy which is saving money for government. It was good that they themselves have reported at some point that the Abuja to Kaduna rail project had gone over 60 per cent before the Jonathan Administration handed over."
According to Turaki, his chances of clinching the highly contested PDP presidential ticket are very high and as bright as anyone can imagine. "What I have going for me is my integrity, credibility, experience, education, knowledge, age, dynamism and courage, the capacity to build bridges across the country and above all, the fear of God. People who know me from the ordinary Nigerian to the highly placed know that I am well tested and can be trusted with power," he said (Real News)