Humanitarian Gesture: Eto'o offers support to ex-Cameroon captain Owona who is homeless and sick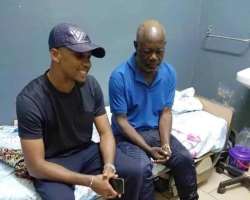 Former Barcelona and Cameroon legend Samuel Eto'o has come to the aid of Indomitable Lions ex-captain Norbert Owona who represented his country in two Africa Cup of Nations (AFCON). The Cameroon veteran, Owona, was rendered homeless and fell sick following a series of unfortunate events that befell the football legend.
According to several reports, the former skipper has been living in squalor conditions ever since his family perished in a tragic accident. Owena lost his wealth became sick and eventually lost his home.
In a tweet by sports journalist Collins Okinyo, Owona was said to have pleaded to the government of Cameroon for help but to no avail. Fortunately, Eto'o kindly donated 500,000 CFA and promised Owona a new and improved house, with better living conditions. "Great heart Samuel Eto'o. Norbert Owona, former Cameroon captain lost everything he had in life, lost family in accident. Asked government of Cameroon for help to no avail, Eto'o paid him a visit gave him 500,000 FCFA and promised him a brand new house," Okinyo tweeted.
Owona has represented his country for many years in both the continental and international scene, contributing immensely to the growth and development of the sport in Cameroon.