Jonathan praises Saraki's 'firm, progressive leadership' of National Assembly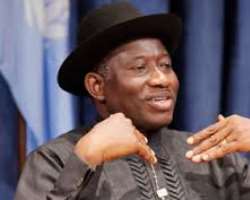 Former President Goodluck Jonathan on Wednesday commended the President of the Senate, Dr. Abubakar Bukola Saraki, for the firm and progressive leadership he has provided for the National Assembly.
Jonathan who spoke when Saraki paid him a courtesy visit at his Maitama Office in Abuja, said the tremendous support being enjoyed by Saraki from lawmakers in both the Senate and the House of Representatives testifies to his leadership ability.
He thanked Saraki and members of his entourage for the visit, noting that most of the leaders that came to his house with the President of the Senate had at one time or the other, played key roles in his political hostory and development.
"Senate President, let me use this opportunity to commend your leadership abilities. Looking at what is happening in the country, if not for your strong leadership, probably the National Assembly would have been in chaos and if the National Assembly is in tatters, then of course, democracy is gone.
"I am quite pleased with the kind of relationship you have with the House of Representatives members and how you have been able to hold the National Assembly together because on the day that the parliament was invaded, though the target was the Senate, the House of Representatives members were as active as, if not more active than, the Senators and that cannot happen by chance.
Saraki and Jonathan

"What we know is that if there is an assault on the Senate. Then it is also seen as an assault on the House of Representatives. If they (House of Representatives members) don't believe in you, I don't think some of them would have taken that kind of risk. That commitment shows that they believe in your leadership", he said.

Earlier, Saraki said his visit was to pay his respect to the ex-president and also to inform him of his formal return to the fold of the Peoples Democratic Party (PDP).

He said that the present realities in the country show that all those that love the country must work together to return the country to the path of growth, fairness, equity and justice.

NAN