COAS Unveils Shooting Range of International Standard, Commissions Projects at 177 Guards Brigade Keffi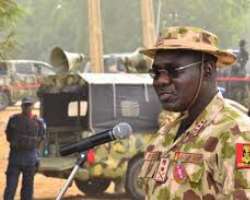 The Chief of Army Staff (COAS), Lt Gen Tukur Buratai has unveiled a Shooting Range of International Standard and also commissioned multiple projects at the 177 Guards Brigade in Keffi Nasarawa State today Wednesday.
The Shooting Range which is to help further the COAS' vision of ensuring professionalism and responsiveness in the Nigerian Army, was remodelled to match international standard.
In his remark, the COAS stated that he will continue to intervene to ensure the Nigerian Army have the best training facilities, professionally positioned to achieve its constitutional role in defending the Territorial integrity of the Nigeria State.
General Buratai added that the Shooting Range is no doubt of international standard, hence the Nigerian Army will ensure more facilities of international standard are installed.
"No doubt the Range is of international standard and we must ensure we install facilities that are of international standard." Buratai said.
He further noted that a huge responsibility rest on the Nigeria Army to defeat the enemy of Nigeria and to do so, it is necessary for men and officers to train very well.
COAS also appealed to the Guards Brigade, and other personnel in Abuja and its environs to utilise the range very well.
Some of the projects commissioned during the visit of the Chief of Army Staff to the 177 Guards Brigade in Keffi include Shittu Alao Barracks and Crocodile monument, RSM Adams Bamidele Shed, 177 Guards Battalion Bus Stop, tree planting campaign, 2.2km Shooting Range access road among others.
A total of 14 solar power street lights was also said to have been installed in order to give the Battalion a new outlook.
Guests present at the event include the Emir of Keffi, HRH Dr. Shehu Chindo Yamusa, Principal Staff Officers of the Army Headquarters and also Army Headquarters Garrison, among others.
The event ended with a gun firing exercise at the Shooting Range were the Chief of Army Staff performed excellently among other participants.