Borno State Records 1,068 Cases of Acute Water Diarrhea in 10 LGAs, No Case of Death From Cholera...Says Health Commissioner
As 25 Cases Are Responding to Treatment At the Emergency Treatment Centers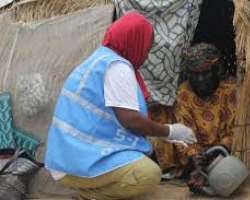 The Borno State Commissioner of Health, Dr. Haruna Mshelia has disclosed that 1,068 cases of Acute Watery Diarrhea (AWD) has been recorded in 10 LGAs of Borno state .
He also comfirmed that there is no single case of death from Cholera in any LGA of the state so far, disputing earlier media reports that there was cholera out break in Borno State. He stressed that death from case of acute water diarrhea is different from case of death from cholera as earlier misconstrued and reported by some media.
Addressing journalists at a press conference yesterday in Maiduguri on sensitization of public on hygiene and sanitation to prevent water borne diseases. At the Public Health Emergency Center, Dr. Mshelia pointed out that technically, there are specific factors or Causes of death from acute water diarrhea or cholera. He stated that for diarrhea, it could be from sicknesses like HIV/AIDS, malaria fever, typhoid, food poison, etc of vomiting and passing of watery stool while cholera comes from contamination as a result of lack of clean water sources and good hygienic environment, not washing hands after going to toilet before eating, drinking unclean and unhygienic water from the streams, indiscriminate stooling or abandoned children's stool at homes by mothers and drinking of water from rivers or ponds without first boiling and filtering the water among other unhealthy sources .
Dr. Mshelia announced the contraction of diarrhea on Tuesday evening while briefing journalists. He attributed diarrhea and other water borne diseases to open "defecation and poor sanitary conditions" in Borno InternallyDisplaced Persons (IDPs) camps and communities.
"To prevent outbreaks of diarrhea and other water borne diseases, like cholera; there must be public awareness on personal hygiene and sanitation. They are critical in preventing such diseases that claimed 61 lives last August in the state," he said.
On whether there was lose of lives, he said: "No one has died yet from AWD. Out of the 100 cases of diarrhea reported early this year, we had one or two cases of cholera at Baga Doro, Borno state.
He commended the protocols of reporting outbreaks of cholera; include taking samples to the laboratory for instant test.
He explained that the response team have to confirm that it is cholera, before reporting it to Nigerian Centre for Disease Control (NCDC).