Borno Road Mantenance Agency (borma) Chairman In A Mess.... Residents Condemn Slow Pace Of Road Projects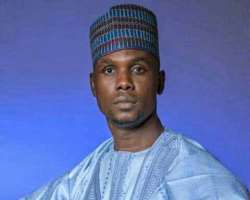 Borno Road Mantenance Agency (BORMA) under the Chairmanship of Engineer Ahmed Satomi is now in dilemma over condemnations as Maiduguri residents vehemently expressed their dismay on Social Media Platforms on the lackadaisical pace of Maiduguri metropolitan road network resurfacing works and poor execution of road projects under the agency..
Satomi who is aspiring for House of Representatives membership of Jere Federal Constituency under the platform of the ruling All Progressive Congress, APC in 2019 was before his recent appointment as BORMA Executive, served as Executive Chairman, State Emergency Management Agency (SEMA), an outfit primarily responsible for cartering for over 1.5 million Internally Displaced Persons, IDPs. He was however sacked by Governor Shettima last year following series of allegations and petitions against his leadership by both International donors and the traumatized IDPs.

A serving National Youth Service Corps member, Comrade Abdullahi Ali with State Code No: BO/17B/1514 in a letter he copied Governor Kashim Shettima on his Facebook page yesterday alleged threat to his life.

The Corps Member who is a Social Media Activist said, he was amongst those who took to the Social Media Platforms to invite Satomi to come to the rescue of people of Mairi Kuwait Ward of Maiduguri Metropolis following poor execution of roads projects under his agency. According to him, incessant flooding during this rainy season have continued to cause nightmare to the residents of the area due to collapse of drainages haphazardly executed by the agency.

He regretted that although Satomi visited Mairi Kuwait after the outcry on 23/08/2018 in the presence of the Corper. suddenly, instead of apologizing to the residents, he started threatening the Serving Corper whom he abusively described as ' an illiterate'.

In a letter copied to the governor on his Facebook page, the corper stated as follows: "I am Comrade Abdullahi Ali Baima, a serving corps member in your state with state code no B0/17B/1514. I am sending my greetings to you with a lot of worries over immoral act made by Engr. Satomi Ahmed to me during his visit to Mairi Kuwait on 23/08/2018.

"I am among the social Media activists that invited Engineer Ahmed Satomi to witness the affected Area and to see some errors made by his agency in Maori Kuwait.

" Sir, his visit came at the right time as i was among the residents that were present at the scene of poor execution of roads by BORMA. We were explaining what happened to him but he started threatening my life calling me an Illiterate.

Other residents who gave their names as Abba Alhassan of Damboa Road, Yakubu Aminu of Kullurori, James Anjili of Jiddari Polo and Mohammed Umar of Old Maiduguri in the metropolis lamented the inability of BORMA to execute or complete armies of road projects, despite huge amount of funds allocated to the agency in the 2018 budget.

Sources close to the governor told The Nigerian Voice that BORMA under Satomi is dominated by quacks and cronies and have since March 2018, exhausted its 2018 budget. The result is poor road maintenance and so-called refilling of potholes. It was learnt that the real Engineers/professionals working in the agency were sidelined, hence, the slow pace of works experienced along Commissioner of Police Official Residence- Damboa- NNPC Depot Dualization among other abandoned and poorly executed road projects being handled by the agency.

The Source also expressed worry with the latest approval and immediate release of N1 billion by the State Government to BORMA for the construction of Gamboru Ngala- Kala Balge road, considering the increasing Boko Haram attacks and ongoing military operations in that axis, which makes it difficult to access the general area including mobilizing the equipments to site.

Another Source alleged that the Dualization of Damboa road which has been in comatose stage may be difficult to complete by the agency as according to him, "N3.6 billion requested by Satomi to complete the project was hitherto rejected at the State Executive Council Meeting due to the fact that a Private Contractor through the mother ministry of Works had earlier submitted proposal to the tune of only N2.6 billion, but was rejected due to high contract cost, in which the ministry claimed that with Direct Labour, it would only cost the State Government N1.8 billion in place of the N3.6 billion earlier requested by Satomi.

Investigations by our Correspondent shows that many of the road projects under Satomi such as Damboa-Chibok- Mbalala, Biu- Kinging- Yimirshika- Shaffa roads and host of others would not see the light of the day as the agency had already exhausted its 2018 budgets with no clear evidence of results.

When contacted for his reaction yesterday, Satomi told our Correspondent that "the reporter should go ahead with whatever information or allegations against his agency, and nothing will happen".