1,560 Borno Pilgrims Get 450 Riyals Each as Hadaya Incentive in Saudia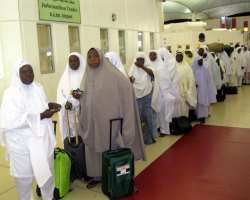 Following the approval of the Borno state Governor, Alhaji Kashim Shettima, all the 1650 Borno State Pilgrims were given 450 Saudi Riyals as hadaya incentive on Eid el kabir sallah day for ram in the holy land .
Out of the 450 Riyals, 300 riyals were given to them by Governor Kashim Shettima, the Executive Governor of Borno State while the Deputy, Alhaji Usman Mamman Durkwa gave each Pilgrim 100 riyals, and the wife of the Deputy Governor gave each 50 riyals.
The money was disbursed to them by the Executive Secretary of the Borno State Pilgrims Welfare Board, Dr. Mustapha Muhammad Ali, and members of the Hadaya Sub Committee which was constituted by the management of the Board.
This incentive is perhaps the highest any pilgrim has ever received.
Each of them was full of praises and prayers especially to the Governor, whom the pilgrims say since he assumed office as a Governor, had introduced a lot of interventions in Pilgrims Welfare which has reduced a lot of burden and stress on Pilgrims in the Holy land during pilgrimage.