Fulani herdsmen are after my life: Gov. Ortom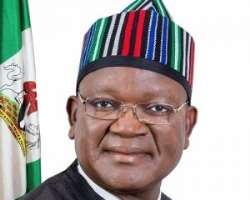 Benue State Governor, Samuel Ortom, on Friday exposed alleged plots by Fulani herdsmen to abduct, torture and then kill him.
The governor said the herdsmen have concluded plans to carry out the act along the Makurdi/Laafia highway.
The governor made the revelation during an interactive session with the church, traditional institution and other stakeholders towards peaceful elections in 2019, organised by the Makurdi Catholic Diocese, and held at the Pastoral Centre, Makurdi, the Benue State capital.
Speaking in Tiv dialect, the governor, however, lamented that he would have resorted to the use of flights when travelling, however, the Federal Government has directed that no flight should land in Makurdi Airport again.
He said, "The armed herdsmen, according to the intelligence report, would ensure that all my security aides were killed, after which they would kidnap and torture me before killing me.
"Already, I had reported the matter to the Police and other security agencies and they are aware of this.
"Therefore, anytime my spirit doesn't allow me to travel by road, I would call flight operators. But, just a few days ago, the Federal Government has issued a circular directing that no flight should land in Makurdi Airport again".