Eid-el Kabir: Gaidam Urges People To Be Their Brothers' keepers, To Collect Their PVCs .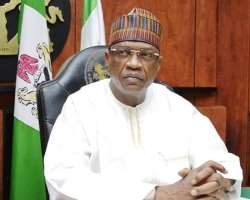 Gov. Ibrahim Gaidam of Yobe state has called on Muslim faithfuls and all people in the state to be their brothers' keepers, especially by doing good to their neighbours, orphans, the poor and needy in society.
The governor stated this Thursday in his state broadcast Eid-el Kabir sallah message to the people of the state.
"The acts of sacrifice we make in this festive period symbolizes our willingness to give up on things and bounties that are of benefit to us for the sake of others.
"We should learn to make sacrifices and strive for the attainment of a happy society where we all live as our brothers' keepers.
"We should share the good things we have with our neighbours, the poor and the needy among us in the spirit of brotherhood", Gaidam said.
The governor added that the symbolism of sacrifice during El-el Kabir underscores the need for "respect, kindness, love, generosity and faithfulness" among Muslims and between Muslims and followers of other religions.
He reiterated his administration's determination to continue to serve the people through the execution of projects and implementation of programmes that would uplift their living standards.
"I wish to seize the opportunity provided by this solemn occasion to reassure all our citizens that, in spite of all challenges that we have to contend with as a state. "Our administration shall continue to remain focused and committed to the sustainability of our developmental programmes aimed at making life more meaningful to the citizenry.
"Let me stress that as we are approaching the last lap of our administration, our focus shall continue to be geared towards consolidating the improved security situation in the state, completion of all ongoing projects and giving attention to the task of post-insurgency resettlement, rehabilitation and reconstruction through effective and efficient collaboration with our development partners and other stakeholders", Gaidam said.
Gaidam also tasked those who have attained the age of 18 and those who do not have the Permanent Voters' Card (PVC) to collect their PVCs before the closing date of August 31st, 2018.
"This is the surest way of empowering our people to make the right choice of electing responsible leaders who will effectively use the powers of representation to make good decisions in accordance with their yearnings and aspirations", Gaidam added.
The governor also stressed the importance of the national ID card to national planning, urging people in the state to register with the National Identity Management Commission and get their national ID cards.
He further called on people to continue to remain security-conscious, support security agents who are risking their lives so that people can live theirs safely and report any suspicious persons or activities in their neighbourhoods.