REJOINDER: Facts Behind Spillage of Petroleum Product on Lagos-Ibadan Expressway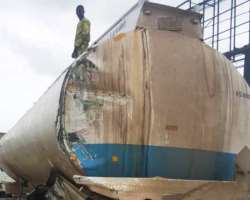 The National Leadership of Nigeria Union of Petroleum and Natural Gas Workers (NUPENG) expresses shock over a story published on the Metro page of PUNCH newspaper, precisely on page 4 of Monday August 20th, 2018 with the headline; Petrol Tanker Spills Content on Expressway Motorists Groan in Gridlock.
Without sounding immodest, the biased and imbalance report which purported that a petrol tanker was indiscriminately leaking and spilling its content around the corridor of Mowe and Berger ends of Lagos-Ibadan expressway without recourse to safety standard is far from the truth and should be utterly discountenanced and taken with a pinch of salt.
Based on our indepth investigation into the matter and according to the report from Petrol Tanker Drivers (PTD) Branch of NUPENG, this particular tanker was hit behind by another articulated vehicle and the heavy impact pierced and crashed the petrol tanker which eventually led to leakage of product on that fateful day of August 19, 2018.
With the help of Federal Road Safety Corps officials who were on ground the tanker driver pulled over and put a call through to our office in order to salvage the product and avert any precarious situation. We must emphasize here that the successful trans-loading of the content in the truck into another tanker wasn't an afterthought initiative, but was part of our well calculated proactive steps in such scenario so that safety would not be compromised. To the best of our knowledge the tanker in question was in good condition, loaded, certified fit and road worthy to haulage petroleum product before embarking on that trip.
Therefore it will be unfair and utterly unprofessional for PUNCH reporters, Sesan Olufowobi and Samuel Awoyinfa to serve unsuspecting members of the public with such erroneous and negative narratives and also to cast aspersion on PTD members and the Union's leadership through use of innuendos, and worst still, making reference to the unfortunate incident of June 28, 2018 which took place on that same axis, that is not excellent journalism to say the least.
We however use this opportunity to specially thank men of Federal Road Safety Corps (FRSC) who gave their best by ensuring free flow of vehicular movement and sanity on the road. We further offer our profound gratitude to the spokesperson of the FRSC who gave balanced and true perspective of what transpired that day during NTA 9 O' Clock news, contrary to what was subsequently published by PUNCH.
Again, as a socially responsible Union we would continue to play our part to ensure that our members strictly adhere to minimum safety standards and eschew reckless driving on the road. It is also important for the media who we deeply hold in high esteem to cherish and sustain investigative journalism and as well jettison sensationalism which we believe is at variance to the ethics of their noble profession.
SIGNED:
COMRADE TAYO ABOYEJI
NUPENG LAGOS ZONAL CHAIRMAN