NUPENG President Comrade Akporeha Visits Union's Former General Secretaries, Frank Kokori & Aberare During Sallah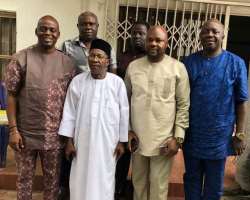 The National President of Nigeria Union of Petroleum and Natural Gas Workers, Comrade Williams Eniredonana on Tuesday August 21, 2018 separately made courtesy visits to former General Secretaries of the Union, Comrade (Chief) Ovie Frank Kokori and Comrade Isaac Aberare.
The Labour President who went in company of Deputy General Secretary of the Union, Comrade Afolabi Olawale, Principal Assistant General Secretary (Admin), Comrade Otite Precious Onohwohwo and Comrade Innocent Iyere, NUPENG Warri Zonal Council Chairman made the first visit to one of the Union's firebrand veterans Comrade (Chief) Frank Ovie Kokori at his residence in Ovu, Delta State and subsequently extended similar gesture to Comrade Isaac Aberare at Agnatha-Otor also in Delta State.
According to Akporeha, "The visits are part of the resolve of this new administration under my humble self to take the Union to the next level and to also appreciate the good works of some of the veterans that had at one time or the other held leadership positions in the Union, we'd never undermine the sense of pride they instilled in the Union which has today made every members to be proud of them. We are indeed delighted to be identified with them. He said.
He however expressed concerns that proximity could not allow him and his team to pay similar visit to other veterans with many indelible achievements in the Union, for example, Chairman House of Representatives Committee on Petroleum Resources Downstream, Hon. (Comrade) Joseph Akinlaja and Hon (Comrade) Peter Akpatason, Chairman House Committee on Civil Societies and Development Partners
who are presently in Abuja.
Akinlaja succeeded Comrade Kokori as General Secretary of NUPENG whilst Akpatason served two terms as President of the Union, both men are today Ranking members of House of Representatives.