BELGIANS VOTE IN POLL DOMINATED BY SEPARATISM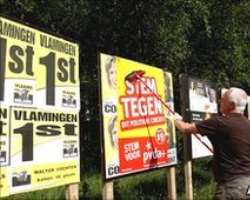 Belgium is holding parliamentary elections which could bring the country closer to a constitutional split.
The Flemish separatist party the New Flemish Alliance (NVA) is expected to do well in the vote.
Its leader Bart De Wever supports dividing the country in two, Dutch-speaking Flanders and French-speaking Wallonia.
However, a split bringing an end to Belgium would not happen immediately.
Belgian governments are required to be made up of a bi-lingual coalition, but this is the first federal election from which a party advocating the end of Belgium could emerge the outright winner.
Separate lives
Belgium is in effect two separate communities held together by a bi-lingual political system.
Made up of Wallonia and Flanders
4 million French speakers in Wallonia
6.5 million Dutch speakers in Flanders
7.7 million voters
Political debate dominated by linguistic disputes
Debt-to-GDP ration expected to exceed 100% within next 12 months
Much of public and political life in Belgium is dominated by bitter debates around language and the allocation of public resources.
Government aid to poorer Wallonia, home to four million French speakers, has caused resentment among Belgium's 6.5 million Flemish majority, correspondents say.
Until now separatist parties have been on the fringes of political debate.
But Mr De Wever, 39, has pushed his party into to the mainstream over the last three years while the other parties have been locked in a political stalemate.
A new government will not be able to devolve power immediately because of Belgium's parliamentary system.
The poll is actually two separate elections, split along linguistic lines.
At least four parties are required to form a government.
The country also faces economic problems.
During the last three years the national debt has grown to unmanageable proportions.
The country's ratio of debt to gross domestic product is behind only Greece and Italy in the Eurozone, analysts say.
Voting is mandatory in Belgium, and some 7.7 million voters will cast their ballots at 10,630 voting stations.
The election was brought forward by a year after the coalition led by Christian Democrat Yves Leterme collapsed in April over a long-standing dispute about voting rights for Dutch-speakers around Brussels.